"By doing PD, I can do the things I want without any disruptions."
– Madam Latifah Binte Rawi
Madam Latifah Binte Rawi exudes the gentle warmth of a mother who holds traditional values of being the matron of a Malay household – one who nurtures the children and expresses her affection for the family through her cooking.
Cooking gives her a sense of calmness. More than this, the love of cooking for this 59-year-old is a form of therapy as she copes with kidney failure. It gives her a sense of inner tranquillity and helps her take the mind of her illness. She cooks all kinds of Malay dishes for her family such as chicken rice, nasi lemak, curry puffs and kuih-kuih. She is very conscious of using less salt, sugar and oil in her cooking such as not using coconut milk in her curry.
Always beside her is her selfless and devoted husband of over 30 years, Kassim, 65, who is also her caregiver. The couple have three adult children and two grandchildren. He has been her constant source of support, especially since she started peritoneal dialysis (PD) 10 years ago. He fulfils the role of a caregiver by being meticulous towards her care. They are each other's pillars of support.
Productive at home
She is happily undergoing this mode of treatment in the comfort of her home. She does about nine hours of dialysis while she sleeps, giving her freedom to carry out her role as a homemaker during the day. She does the lighter household chores like cooking and laundry while Kassim does the more strenuous ones.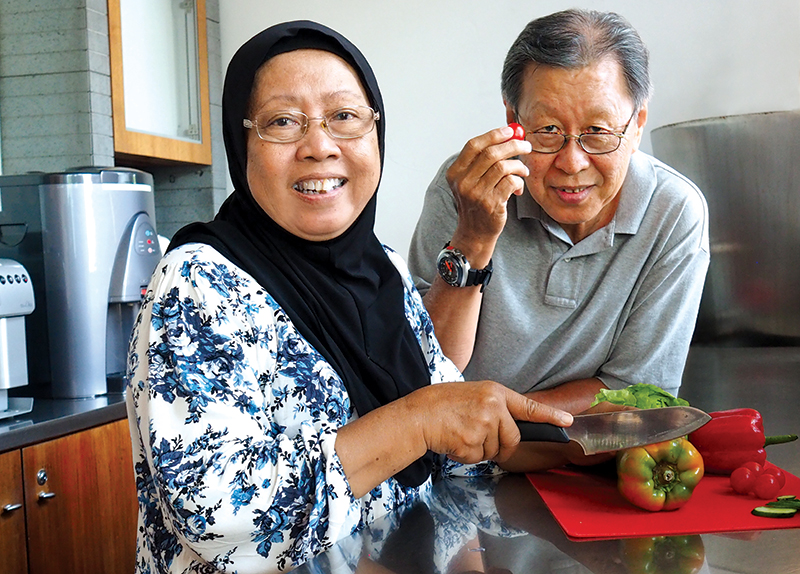 Doing well on PD
Kassim is always there for her like helping Latifah to set up the machine when she starts treatment daily and sorting her medication. She has been doing extremely well in her treatment and has never had any infection such as peritonitis, which is inflammation of the peritoneum (the inner wall of the abdomen and cover of the abdominal organs). NKF's PD nurse also visits her home regularly to check on her dialysis access site and to see if she is coping well. Latifah also takes walks with her husband daily as a form of exercise which is an important part of her rehabilitation
Encouraging other patients
Latifah regularly participates in NKF's patient outings to places of interest which she finds calming and relaxing. She also attends NKF's PD support group regularly and is always accompanied by Kassim. During group sessions, both of them give advice and encouragement by sharing their experiences with new patients and showing them how PD treatment is done to give them a sense of assurance and comfort. She also learns about diet, nutrition and exercise which she can do at home, how to read her blood count report and techniques on coping with anxiety and depression during the sessions. Latifah is indeed living a happy and meaningful life and does not let her illness weigh her down in any way.