Madam Ivy Tan takes her two dogs for a walk daily and likes to travel to nearby places in Malaysia like Genting Highlands and Malacca. The 55-year-old, who was stricken with kidney failure last year, is on lifelong dialysis. Her husband and the company of her dogs give her the strength and courage to push on in life.
"My world came crashing down when I had kidney failure. But now, I do not let my illness pull me down."

– Madam Ivy Tan
Finding support and comfort
Her husband, whom she married when she was 40, has stood by her. When she was too weak in the early months, he would bathe her and care for her. He works as a security guard to support the two of them. They have no children. She also finds being with her dogs therapeutic, giving her a sense of peace and calmness. She plays with them, go for walks with them and brings them along when she goes to the market. She said, "When I feel dizzy, my dogs can sense something is wrong. They will sit by me until I feel better and then walk away."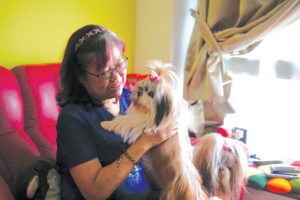 Her diabetes led to kidney failure
She was diagnosed with diabetes in her early 40s and had been seeing a doctor to manage it. But her blood sugar levels kept going up in spite of the doctor increased the dose of her medicine. Towards the end of 2016, she found that she could not even walk 100m without feeling breathless and tired. Her legs were swollen and painful. When she saw the doctor, he sent her to the polyclinic, which referred her to the hospital. On admission, she weighed 85kg. After a week, when the excess waste in her body had been drained, her weight fell to 69kg. She also suffers from high blood pressure, high cholesterol, heart problem and poor eyesight in her right eye. Her heart condition prevents her from having a kidney transplant. Hence, she has no choice but to go on dialysis.
Opted for peritoneal dialysis
Madam Tan is the third generation in her family to suffer from kidney failure. Her father, who passed on at the age of 63, and her grandfather also lost the use of their kidneys due to diabetes. Like her father, she chose peritoneal dialysis (PD), a home-based treatment. She does her daily dialysis overnight for 10 hours while she sleeps with the help of a machine. This gives her greater convenience as she does not have to travel to and from a dialysis centre thrice weekly. PD also allows her to eat and drink more freely than if she had to go on haemodialysis (HD) as excess fluid and toxins are cleared from her body every day. She also receives support from NKF's nurses, an exercise specialist and dietitian who visit her home to help in her rehabilitation.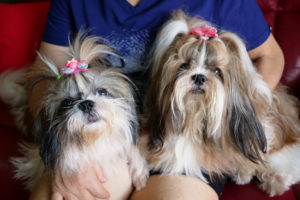 Making the most out of life
Madam Tan participates in NKF's PD Support Group where she encourages fellow patients by sharing her experiences in coping with her illness and providing a listening ear to them. On PD for almost two years, she still enjoys her life. She said, "No point worrying. Enjoy while you can and try to make the most out of your life."