Mr Law Swee Guan Dani, 54, was diagnosed with kidney failure in September 2013. Dani worked over 18 hours a day as a taxi driver to support his two boys for the last decade, especially since his wife passed on in 2000.
Today, Dani actively volunteers his time to fellow patients through hospital and home visits, new patient orientation and NKF's outreach programmes to benefit the elderly in the community. He believes that the challenges he had been through made him a stronger person. Dani would often volunteer to send his fellow patients to the hospitals for medical appointments as well as NKF's monthly patient gatherings.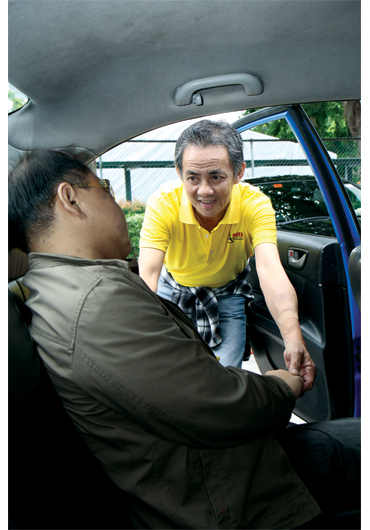 He is very grateful to NKF for providing him with quality treatment and care and the opportunity to encourage and support fellow patients. He only pays $50 a month for his dialysis. Dani firmly believes in giving back to society by volunteering his time with NKF. He used to also help out the poor and the needy with churches in Philippines and Indonesia. However, as he now has to go for dialysis, he makes less frequent and very short trips there to help out.
After going through trials and tribulations, Dani is enjoying his life with his sons and is looking forward to the arrival of his first granddaughter this September.