Mr Lee Keng Huat, 55, was told by doctors that his kidneys had failed four years ago. He was devastated as he felt fine despite having been diagnosed with diabetes almost 20 years ago, and hypertension even before that. The news came as an utter shock. The worst part was having to make important decisions regarding his treatment when he was still struggling to come to terms with the dialysis.
Mr Lee is single and lives with his elderly mother who is 89. He has been passionate about audio equipment since he was a teenager and has been a sound engineer for many years at a retail store. He is used to his independence and was worried that his illness would rob him of it. It was important for him to continue working. So when a doctor presented him with the option of haemodialysis where he has to travel to a dialysis centre and home-based peritoneal dialysis (PD), it was a no brainer for him.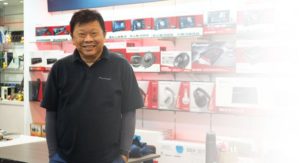 A number of my fellow kidney patients have passed on. Sometimes, I really regret getting myself into this situation. Not a day goes by without me wishing I had managed my diabetes better.
– Mr Lee Keng Huat
who wishes he had taken better care of his health
PD allows him to continue with his schedule of being at the store full-time, five and a half days every week. Nevertheless, the long hours of the retail industry can be punishing. He laments that he feels tired easily and cannot stand for too long as he is much weaker than before.
Although he remains positive and does not give in to despair, Mr Lee is aware of the harsh reality of his situation. The years of neglecting his health have taken a toll on his body and he is unsure of what the future holds. For now, he does his best to comply with his treatment and to work while he still can.
---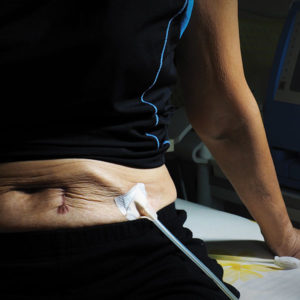 Did you know?
THIS TUBE IS A PART OF A PATIENT'S BODY
Take care of your health.
Permanent tube (catheter) inserted into abdomen
Daily care required for catheter to exit site
Having to cope with body image issues