"I'm able to take up an active role in the various things I want to do. I feel that I'm more in charge of my life."
– Mr Ang Mong Lee
Since 56-year-old Mr Ang Mong Lee started peritoneal dialysis (PD) treatment, he has had more time to pursue his goals and interests as he need not spend time or feel tired travelling to and from a dialysis centre.
Growing vegetables gives him peace of mind
He is able to spend time growing potted vegetable plants along his house corridor and tending to them daily which he finds therapeutic. It gives him a sense of inner calmness and takes his mind off his illness.
Mong Lee grows five kinds of vegetables – Chinese broccoli (kai lan), chye sim, chillies, okra (lady's fingers), eggplant (brinjal) and the fruit tomato. He also finds sweet satisfaction in growing them and filling the family dining table with delicious, healthy produce.
Other pursuits for fulfilment
Besides doing home gardening, PD also frees him to continue with his volunteer work in the community by visiting the lonely elderly to befriend them.
Determined to return to the workforce after losing his job in 2015 due to kidney failure, he is also taking up conversational English classes during the day to enhance his job prospects.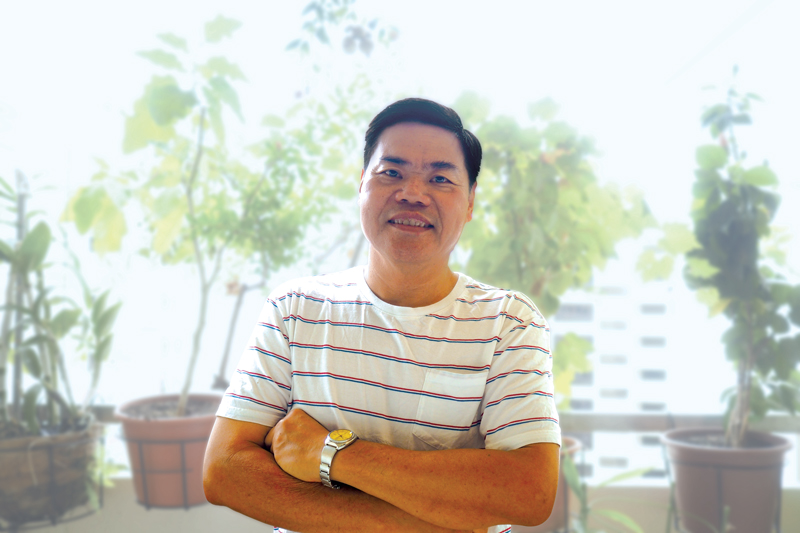 Initially feared drastic changes
"At first, I was fearful that my life would be affected drastically and I would be restricted in doing the things that I wanted," said Mong Lee who also suffers from diabetes and high blood pressure.
The doctor told him that based on his medical condition, he could choose either haemodialysis (HD), where he would need to go for dialysis thrice weekly at a dialysis centre for about four hours each time, or peritoneal dialysis (PD), where he could do it at home daily during the night for about 10 hours while he sleeps. The doctor also explained the benefits of both treatment modalities. After carefully weighing and discussing both options with his family, in particular, their impact on his lifestyle, he decided on PD.
Getting support
Mong Lee is self-reliant in carrying out his daily dialysis treatment and does so with ease without any help from his wife and two grown-up sons. Moreover, an NKF PD nurse and dietitian make visits to check on his condition, give advice and ensure he is coping well.
Happy with his decision
Mong Lee is indeed happy about choosing PD as he says that he only needed to make small changes to his lifestyle. He remains active and has a positive outlook on life. "I spent the whole of each day doing meaningful things as I only need to do my dialysis at night in the comfort of my home." In fact, he is so glad that he chose PD that he is devoting some of his time to encourage and reassure newly diagnosed patients who are contemplating taking up PD.