65-year-old Madam Sim Bee Keow has been on dialysis for the past 35 years, spending over 20,000 hours on dialysis. Her life has been a chronicle of sufferings and misfortunes. Despite her difficult life, she faces each day with calmness and optimism. Here, she shares her poignant story.
I had led a hard life since my early teenage years. I came from a family of 13 siblings. My father was unable to take care of all of us so I was adopted by another family at a very young age. Being poor, my parents were unable to carry on supporting me in my schooling. So I went to work in a factory after finishing secondary one.
Unhealthy lifestyle
I had to work long hours on the 12-hour night shift, from 4 pm to 4 am. Life did not get much easier, having started a family and needing to help support three young children. I did not have time to prepare home cooked meals and ate outside food. I also took a lot of sweetened drinks.
4 every day 
The number of people in Singapore who have their legs amputated due to diabetes complications

1 in 5
The number of diabetics in Singapore who died within a year of leg amputation

230
The number of NKF patients who have had their legs/toes amputated due to diabetes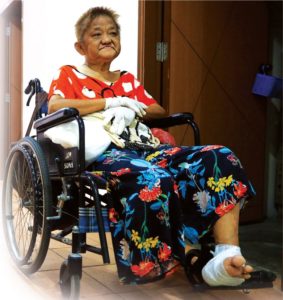 Diabetes, kidney failure, amputation, heart disease
Those years of not taking care of my health quickly caught up with me and by the time I was in my 20s, I was already diagnosed with diabetes and had to be on medication. It was then one blow after another. I got retrenched from my job. My doctor also told me that because of my diabetes, my kidneys were failing and I needed to go on dialysis to stay alive.
I started treatment at a private dialysis centre around the age of 30. My diabetic condition worsened over the years and I had to have my right leg below the knee amputated as well as half of my left foot, which included two toes. I am now wheelchair-bound. I am also being treated for heart disease.
Getting support, being independent
Now that I am doing my dialysis at NKF, I pay zero because they provide high subsidies. This way, I do not have to burden my children with the financial cost as they have their own families to look after. The nurses here are very caring and friendly and I have fellow patients that I also talk to. At the nursing home where I am staying, I do things independently like changing my clothes and showering myself. In the mornings, I do exercises and also spend my time reading the English newspaper and watching Chinese TV dramas to keep my mind alert.
Just be happy. Worrying is of no use. I take one day at a time.
It's not too late for others
What has happened has happened. I cannot undo the past. I tell my friends to take care of their health and get their families to do so, so that they do not end up like me. My greatest wish is for my children and grandchildren to always have good health.