"Switching to PD gives me freedom and peace of mind knowing I can work and contribute to my family."
– Mr Peh Chiu Guan
60-year-old Mr Peh Chiu Guan John has been on peritoneal dialysis (PD), a home-based treatment for over two years and enjoys the freedom that comes with this form of dialysis treatment.
He is happy to work full-time driving a mini tour bus six days a week. As the sole-breadwinner in his family, this enables him to contribute towards his family, especially as his son is currently doing his National Service and his daughter studying in university. It also gives him a sense of self-worth and meaning to his life. He does not feel that he is being a burden to his family.
Juggling work with dialysis schedule
When Chiu Guan was first diagnosed with kidney failure, he was in a state of confusion with so many things running through his mind. He was unsure which dialysis treatment he should opt for. He started off on haemodialysis where he underwent dialysis thrice weekly at a dialysis centre. Having to travel to the dialysis centre was disruptive to his work. He had to schedule his working times around his dialysis schedule, which he found very challenging. He did not have time to have proper meals at the right time as he was always rushing to get to work or his dialysis sessions on time. He found it very inconvenient and stressful.
He also said that poking a needle into him was very painful and he had to shout out loud each time it was done during his dialysis sessions.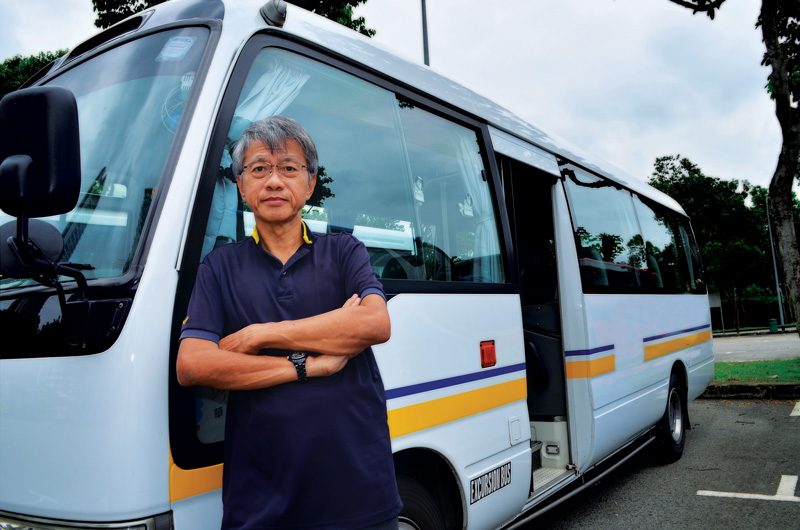 Chose PD for greater freedom
Several months later, a fellow patient whom he met at the hospital told him about the bene ts of being on PD. This triggered him to think more about doing dialysis at home for about 10-hours at night while he sleeps. He also picked up a brochure to find out more about PD. After speaking to the doctor who told him that his medical condition allowed him to do PD, Chiu Guan gave it serious thought. He then decided to make the switch to PD.
Being self-reliant
NKF's PD nurse came to his home regularly to help guide, support and build his confidence during his initial period as part of our PD home care support services. Since then, Chiu Guan has become self-reliant and able to carry out his treatment daily easily without any help from his wife and children. Our dietitian also visited him to provide nutrition information for appropriate dietary choices and counsel him to make behavioural changes towards eating right.
No regrets choosing PD
Chiu Guan has been doing well ever since he started on PD and his happy about his choice of treatment. He does not feel his lifestyle is restricted and he is able to lead a fulfilling and meaningful life with his family. He is also glad that he has no more painful needling.
Lending his support
To encourage pre-dialysis patients who are considering PD, he has opened his home to them so that they can see for themselves the ease, convenience and comfort in carrying out this mode of treatment in a home-setting. When he attends PD care group sessions for social interaction and sharing, he carries himself well to spread this positivity to fellow patients. Chiu Guan indeed has become a PD advocate.