Berries Greek Yogurt Tart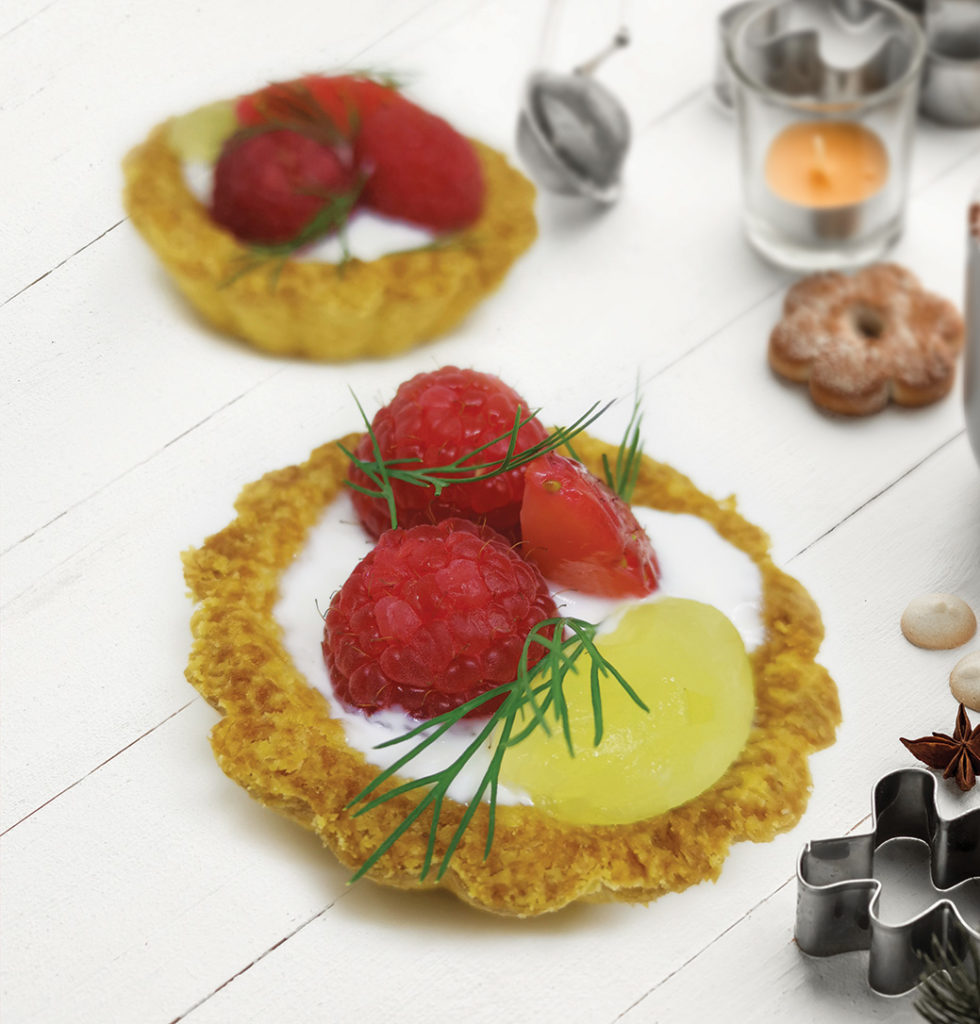 Berries Greek Yogurt Tart
| | |
| --- | --- |
| Yogurt Filling | |
| Plain low fat greek yogurt | 2/3 cup / 100g |
| Unsweetened cocoa powder (optional) | 1/4 teaspoon |
| Vanilla essence | 1/8 teaspoon |
| Strawberries | 1/3 cup / 50g |
| Grape, white | 1/3 cup / 30g |
| Raspberries | 1/4 cup / 50g |
| Tart Shell | |
| All purpose flour | 195g |
| Artificial sweetener, e.g. Splenda, Monk fruit sweetener | 3 tablespoons / 50g |
| Unsalted butter | 115g |
| Egg yolk | 1 yolk |
Using a clean bowl, add in greek yogurt, cocoa powder and vanilla essence. Whisk thoroughly then cover with food wrapper. Chill the yogurt mixture in the fridge until it is ready to be served.
Cut strawberries into small halves, peel grape skin off and cut into half. Place berries on a piece of clean paper towel to remove excess moisture. Then, set the fruits aside.
To prepare the tart shell, place the flour and artificial sweetener in a medium mixing bowl. Mix the butter with a spatula, fold in until the mixture resembles coarse meal.
Add the egg yolk and stir until the dough forms into a ball-shaped. Then wrap the dough tightly in food wrapper, and chill for 1 hour.
On a lightly floured surface, roll the dough to a thickness of about 1/8-inch. Press the dough gently into the tart pan(s), trimming away any excess.
Preheat oven to 200°C and place rack in centre of oven. Bake the crust for 5 minutes with 200°C. Then, reduce oven temperature to 180°C and bake until well cooked. Once tart is cooked, let it cool down for 1 hour before use.
Add yogurt mixture into the tart shell and spread evenly. Lastly, add the fresh fruit on top of it. You may garnish with mint leaves/edible flower.
Cooking TIPS!
Before putting pastry crust into oven, lightly prick the bottom of crust with tines of a fork, as this can prevent the dough from puffing up while baking.
Recipe available in English and Chinese. Download PDF here
You may replace the fruits topping with other low potassium fruit such as blueberries or dragonfruits.
Sugar content is reduced by replacing sugar with artificial sweetener. However, it is advisable to use it in moderation to prevent cravings for intense sweetness.
25g (1.5 portion per serving)
Recipe courtesy of Chef Jason Koh from ITE College West, in collaboration with NKF Dietitians.