The Friends of NKF (FON) Programme was launched in November 2016 to show our appreciation to our supporters for their compassion and generosity to our cause over the years.
With the support of our corporate partners, we are able to provide exclusive discounts and privileges to our valued supporters through the FON Card and e-Card. To view your FON e-Card, click here.
Contact us (fr_events@nkfs.org / 6506 2280) to support this programme as our corporate partner.
Join us as a friend of NKF by signing up to be a LifeDrops donor today.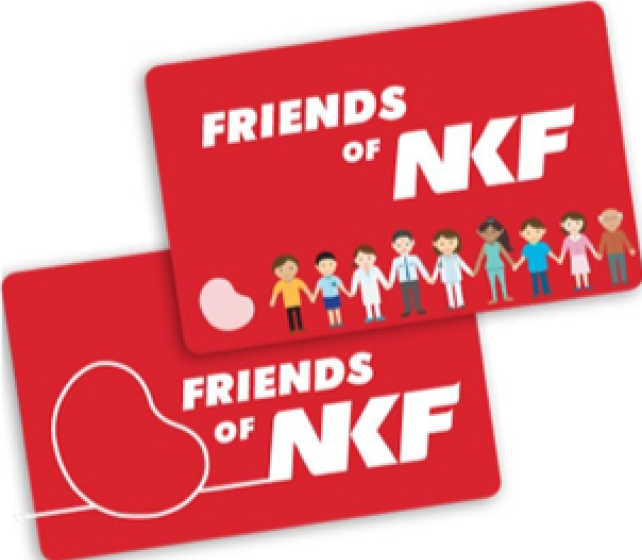 Terms & Conditions for Friends of NKF (FON) Card
This is a privilege Card and must be presented prior to the transaction to be entitled to the benefits conferred by the use of this Card. Your FON electronic-Card ("e-Card") reflected in your NKF self-help portal may be used in place of the physical Card.
This Card is non-transferrable.
Cardholders may be requested for an identity check for verification purposes during transaction.
This Card is strictly to be used with ongoing NKF Card privileges only.
Privilege notices are updated on The National Kidney Foundation (NKF) official website and/or Cardholders' communication preferences.
Benefits are subjected to certain limitations, exclusions and restrictions.
NKF and the participating partners have the right to amend and change the privileges without prior notification to Cardholders.
It is the responsibility of Cardholders to keep NKF updated with their latest mailing address, email address, mobile number and/or other communication preferences.
Cardholders shall immediately inform NKF once his/her Card is discovered to be lost, damaged or defective. The lost, damaged or defective Card will be replaced at SGD$10 per  Card.
Cardholders shall be liable for any unauthorised use of the Card to the extent permitted by law and shall indemnify NKF against any claims, losses or damage of whatsoever nature arising out of or in connection with any unauthorised use of the Card.
All Terms & Conditions for FON Card applies to the FON e-Card.
Cardholders can write to lifedrops@nkfs.org for any query in relation to the Card.