What is Peritoneal Dialysis?
Peritoneal Dialysis (PD) is a treatment for kidney failure. A special sterile fluid is introduced into the abdomen through a permanent tube that is placed in the peritoneal cavity. The fluid circulates through the abdomen to draw impurities from surrounding blood vessels in the peritoneum (abdominal cavity), which is then drained from the body.
There are 2 types of PD – Continuous Ambulatory Peritoneal Dialysis (CAPD) and Automated Peritoneal Dialysis (APD). PD gives patients more flexibility and control over their lives. NKF provides various community support services to ensure PD patients start and stay well on PD. Patients and his/her family need to work closely with the health care team to achieve the best possible results and continue to lead an active life.
Frequently Asked Questions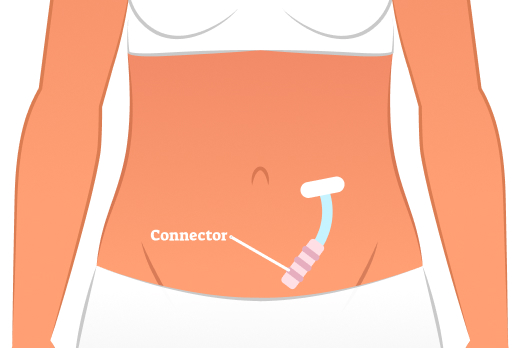 A permanent catheter will be placed in the abdominal cavity.
Dialysis solution flows into abdomen.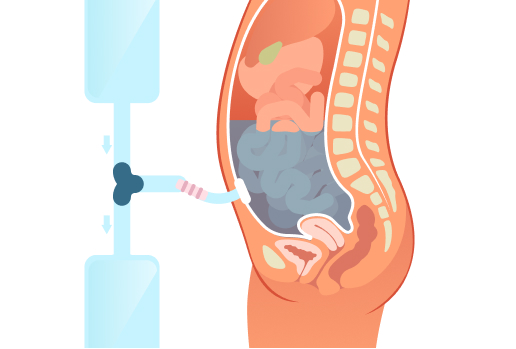 Dialysis in progress. Waste, fluid and chemicals flows through the peritoneal membrane into the dialysate.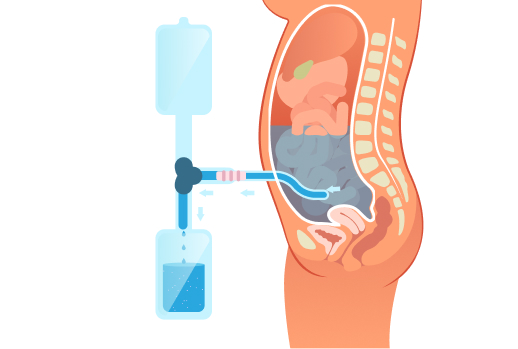 The 'used' PD solution is then drained out and replaced with another two litres of fresh PD solution (exchange).
Continuous Ambulatory Peritoneal Dialysis (CAPD) is done during the day and machine-free. The process is carried out using the PD bag system, and gravity to fill and empty the abdomen. The doctor will prescribe the number of exchanges a patient needs, typically three or four exchanges during the day and one evening exchange. The replacing of fresh PD solution with the used PD solution is called an exchange.
The patient can walk around with the dialysis solution in the abdomen. No exchange is required while the patient is sleeping.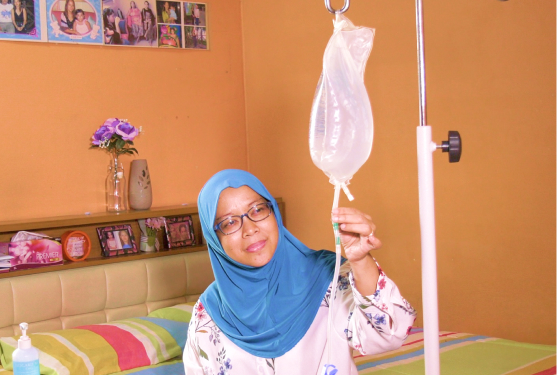 Automated Peritoneal Dialysis (APD) is usually done in the night and a machine called a cycler will change the dialysate solution during the night, usually while patients are asleep. This means that patients have to be attached to the machine for 8-10 hours.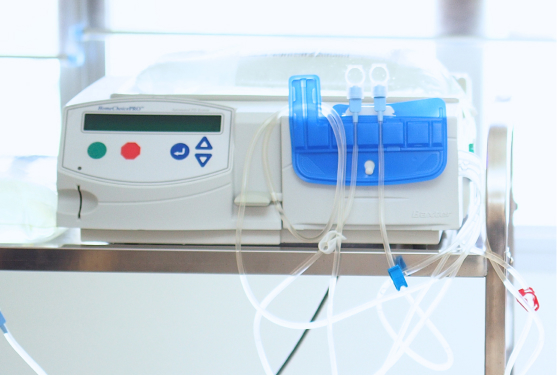 PD can be carried out at home, at work, or on trips, but requires careful supervision.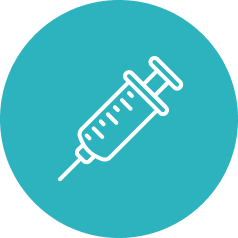 Unlike HD, no vascular access or needling is required for PD, hence PD is a painless procedure.
Vascular access-related complications are one of the common causes of hospitalisation in haemodialysis patients.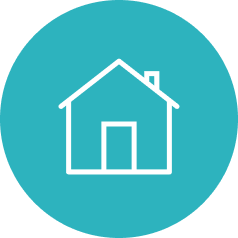 Patients carry out treatment themselves in the comfort of their own homes.
No need to travel to the dialysis centre for treatment and not restricted to dialysis centres' schedule.
More flexibility to better fit dialysis into their lifestyle.
Patients take charge their own treatment plan and advice given by the PD care team.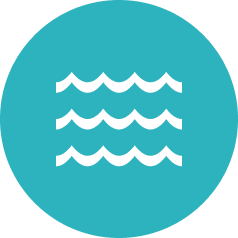 Gentler and works more like the natural kidney
PD mimics the function of real kidneys more as the constant presence of the PD solution in the abdominal cavity allows waste products and excess water from the blood to be removed continuously.
The non-intermittent nature of PD makes it a gentler treatment. Patients have lesser food restrictions and experience lesser side effects.
Through the PD Home Support Programme, our experienced PD nurses will support patients every step of the way in their PD journey – from preparing them in adapting to PD by assessing and optimising their home environment, to facilitating smooth transition from hospital to home and having regular home visits to check on them so as to ensure they are doing well on PD in the long term. All new and existing PD patients (including subsidised and non-subsidised) referred by Public Health Institutions (PHIs) can apply.
For more information, please email us at ALL-PD@nkfs.org or give us a call at 1800 KIDNEYS (5436397)
Admission Eligibility & Cost Structure
All applicants will undergo financial assessment through a comprehensive means test.
Eating Right for Dialysis Patients
A well-balanced diet is essential for dialysis patients to stay fit as their kidneys are no longer functioning at its full capacity.
Keeping Fit for Dialysis Patients
Exercise is effective in the management and control of chronic illnesses, and also helps you to de-stress. Learn more about the types and intensity of exercises that are best suited for you.
Finding Strength and Freedom
Hear from some of our patients as they share their experiences on peritoneal dialysis, and how it empowers them to play a vital role in their treatment journey and offers the flexibility to meet their changing needs.
PD Home Support Programme
Through NKF's PD Home Support Programme, our experienced PD nurses will support patients every step of the way in their PD journey