Being the forerunner in providing community dialysis treatment, The National Kidney Foundation (NKF) has embarked on an integrated renal care model to support the evolving health and social needs of our patients. This is especially crucial as patients are getting older and frailer, and their needs continue to become more complex, compounded by multiple chronic conditions such as cardiovascular disease, diabetes, hypertension and obesity.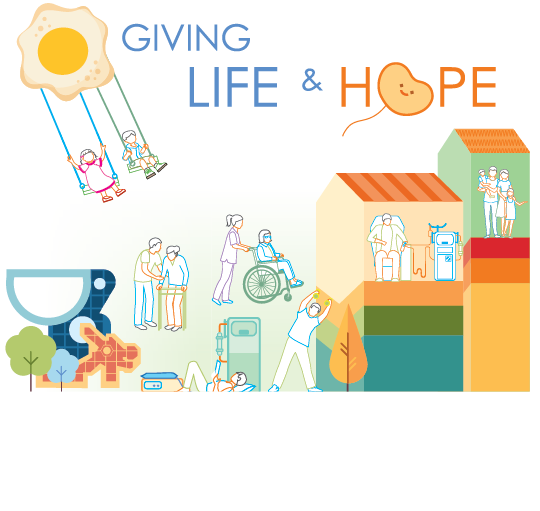 Transforming the Renal Landscape as a Community Care Integrator
In our role as a community care integrator, we aim to right-site all our patients at a dialysis centre within 5km of their residence as part of our community integration efforts to actively engage the grassroots and volunteers to have greater interaction with our patients. We continue to adopt a collaborative approach by working closely with government agencies, social agencies and restructured hospitals to provide seamless, integrated renal care; leveraging on the strength of our volunteers; and partnering individuals and corporates who give generously to our cause. We are continuing with our strategic move to set up dialysis facilities in community hospitals within tertiary care hospital premises and community centres to embed ourselves in the community as we provide integrated kidney care in the community.
Engaging & Empowering People through Education & Prevention
While NKF's mission is to provide affordable and sustainable dialysis for all who are in need for it, we recognise the urgent need to stem the incidence of kidney failure. Hence, the solution lies in education and prevention, especially from young as healthy and active lifestyle habits are anchored in a child's formative years and these young 'change-makers' would be able to proactively nudge their peers and family members towards a long-lasting healthier lifestyle in a casual setting and ultimately keep kidney disease and kidney failure at bay. Our suite of public education programmes are specially developed to make sure they cater to a wide spectrum of audience from the community, schools, corporates and even religious organisations. We also reach out to high-risk groups such as family members of kidney patients, the Malay/Muslim community and individuals who suffer from diabetes and hypertension, and to address risk factors such as unhealthy dietary habits and sedentary lifestyles.
Driving Productivity & Performance through Staff Development
To carry out our work effectively on multiple fronts, we start from within by building an engaging and vibrant workplace, as well as deepening our staff development and empowerment while providing opportunities to learn, grow and excel. Employee engagement drives up performance and productivity, resulting in our focus on progressive ideas such as our ongoing efforts in digitisation of care at our dialysis centres which translates to better patient health outcomes.
With the strong community support, NKF will continue to Give Life & Hope to kidney patients and do our part in building a more resilient and healthier nation.