Haemodialysis is a way of cleansing the blood of toxins, extra salt and fluids through a dialysis machine. It helps maintain proper chemical balance such as potassium, sodium and chloride and keeps blood pressure under control.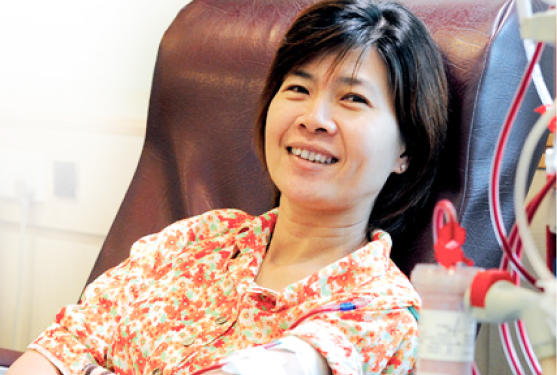 Frequently Asked Questions
Start of Dialysis
Before dialysis begins, 2 needles will be inserted into the vascular access, one to remove the blood and the other to return cleansed blood to the body.
The patient is connected (via tubing) to the dialysis machine through a vein in the arm, the blood is pumped from the body to a special filter (dialyser), which is made of tiny capillaries.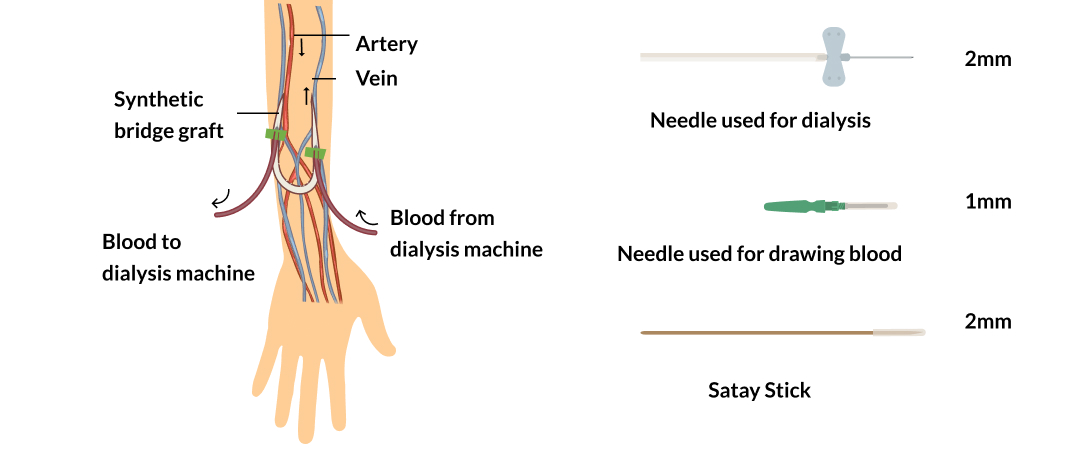 During Dialysis
Blood is continuously pumped through the dialyser, where waste products and excess water are removed.
The blood becomes purified when the waste products diffuse from the blood across the membrane of these tiny capillaries in the dialyser. Purified blood is then returned to the patient's body through larger tubes.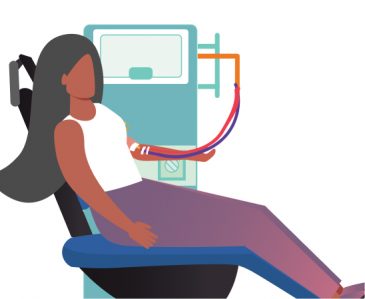 Dialysis Frequency
Haemodialysis is performed thrice a week at the dialysis centre, with each session lasting about 4 hours, depending on the body size and medical condition.
At NKF, patients choose between 2 sessions i.e. Mondays, Wednesdays and Fridays or Tuesdays, Thursdays and Saturdays. They can also choose the morning, afternoon or evening timeslot.
Doctor will guide and decide when it's time to start dialysis, which is mainly based upon symptoms, the test results (which reflects the function of kidneys and complications due to failing kidneys) and overall health.
Prior to HD initiation, a surgery, for creating an access, is required to prepare a blood vessel for attachment to the machine.
There are three different types of access:
Arteriovenous fistula (AVF)
Arteriovenous graft (AVG)
Central venous catheter
While AVF and AVG has some time limitation before they can be used for HD, the central venous catheter can be used immediately after placement.
Haemodialysis can be either done at home or at dedicated dialysis centres. In Singapore Haemodialysis is mostly done in dialysis centre. Haemodialysis centres (HDC) are located in community where patient travel to and fro for each dialysis session. There are nurses and rounding doctors in the dialysis centre for every treatment session, monitoring and further management.
There can be problems related to access, like blockage, infection or malfunction when dialysis cannot be performed and thus requires hospital admission for corrective intervention.
There can also be some problems during dialysis treatment like having muscle cramps in legs or abdomen, giddiness nausea or vomiting with fluctuation in blood pressure during dialysis sessions. Doctor and nurses in Dialysis centre will manage and treat these problems.
Follow up with hospital based doctors still continues, though the visits required are less frequent once on maintenance three times a week haemodialysis.
Other types of treatment options of kidney failure can be discussed in further details with doctor to know how they might work for individual.
One might even decide not for any active treatment in kidney failure, known as palliative conservative care, when only supportive treatment is offered, this as name self-explains has significant limitation in life expectancy.
Patients who opt for conservative palliative care may survive days to weeks without dialysis, depending on the amount of kidney function they have, the severity of symptoms and the overall medical condition.
The choice for further management is mainly patient's decision. 
NKF Dialysis Centre Locations
As part of our on-going community integration efforts, NKF aims to bring dialysis closer to patients' homes. Currently, NKF has 41 dialysis centres located Singapore.
Thrive On
With their stories of strength, hope and courage, our patients offer inspiration to fellow patients, families, friends, doctors and nurses.
Admission Eligibility & Cost Structure
All applicants will undergo financial assessment through a comprehensive means test.
Eating Right for Dialysis Patients
A well-balanced diet is essential for dialysis patients to stay fit as their kidneys are no longer functioning at its full capacity.
Keeping Fit for Dialysis Patient
Exercise is effective in the management and control of chronic illnesses, and also helps you to de-stress. Learn more about the types and intensity of exercises that are best suited for you.