Capsicum with Saba Fish Wrapped in Cabbage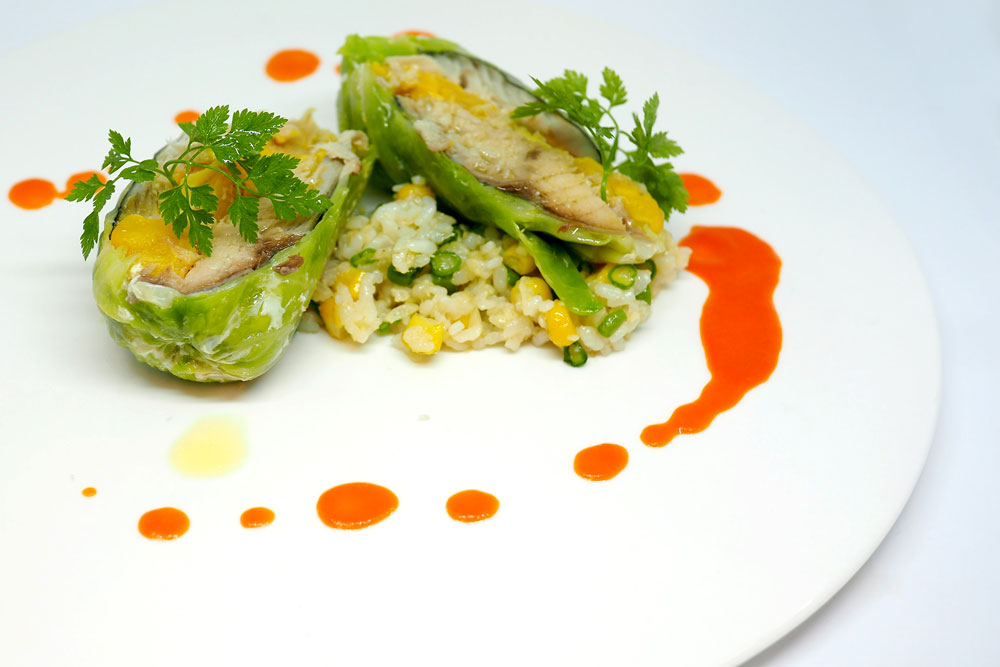 Capsicum with Saba Fish Wrapped in Cabbage
| | |
| --- | --- |
| Saba fish | 200g |
| Cabbage (round) | 100g |
| Red Capsicum | 100g |
| Yellow Capsicum | 150g |
| Grape Seed Oil | 10ml |
| Water | 30 – 50ml |
Slice the saba fish fillet into 10 cm in length and debone the fish. Set aside.
Peel 3 large leaves from the round cabbage and blanch for 2 minutes. Pat dry the cabbage leaves with a paper towel. Set aside.
Season both the red and yellow capcicums with grapeseed oil and roast it in the oven at 180°C for 20 minutes.
Remove the skin and seeds from roasted yellow capsicum and cut them into long stripes. Set aside.
Remove the skin and seeds from the roasted red capsicum and blend the capsicums with a blender. If the paste is too thick, add ~30-50ml water to make the sauce less thick. Set aside.
Wrap 2 fish fillets with cabbage leaves and place the yellow capsicums in between the 2 fish fillets. Add some red capsicum sauce on the fish. Steam for 20 minutes until it is well-cooked.
Place the wrapped fish on a plate and drizzle some red capsicum sauce at the side of the plate.
Serve with white rice.
To reduce the potassium content, leach the vegetable by soaking them in water for at least an hour. Then, discard the soaked water.
Recipe courtesy of ITE College West Student, Lu Zixiang & Ivan Woo Tian Hoe