Cauliflower Soup with Green Pea Dumplings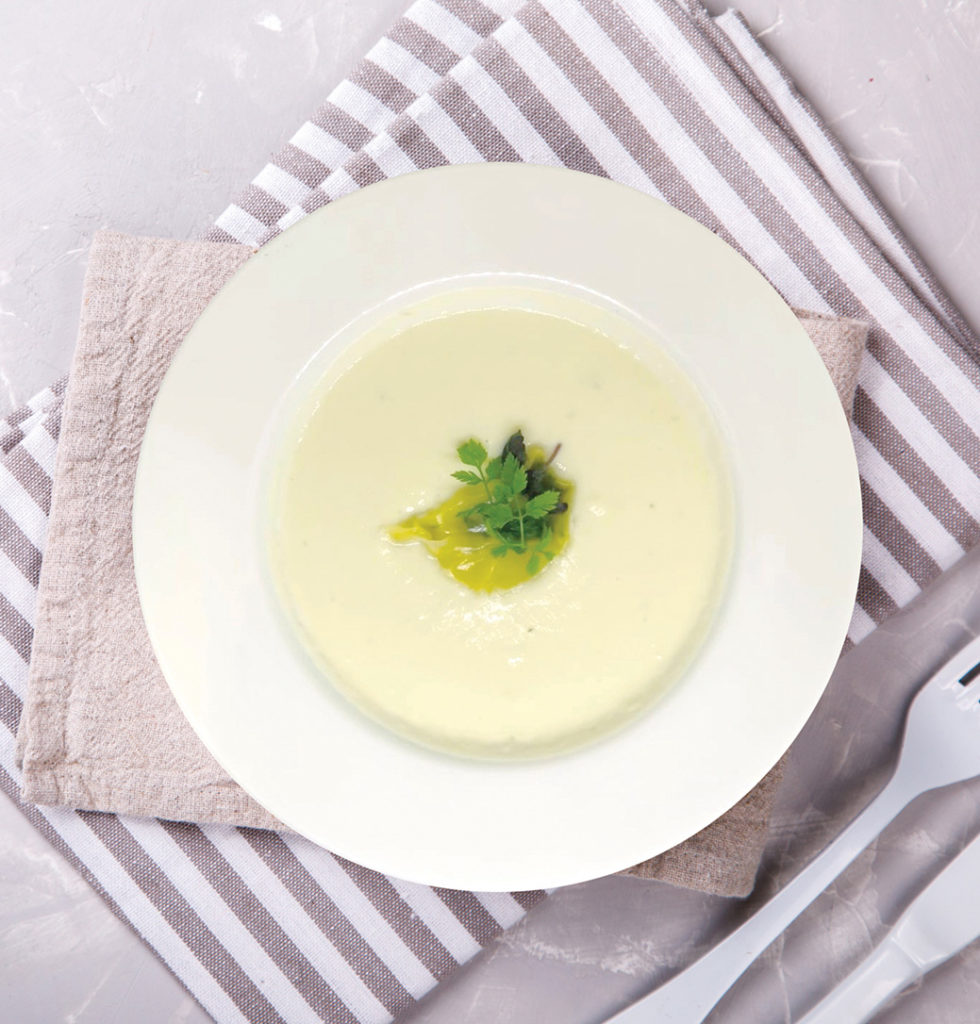 Cauliflower Soup with Green Pea Dumplings
| | |
| --- | --- |
| Cauliflower Soup | |
| Cauliflower | 1½ whole / 750g |
| Vegetable oil | 2 tablespoons |
| Leek, finely sliced | 2 medium / 125g |
| Onion, large, chopped | ½ whole / 70g |
| Chicken stock, home-made | 1.4L |
| Fresh cream | 80g |
| Salt | ¼ teaspoon |
| Ground white pepper | 1/8 teaspoon |
| Fresh chervils (for garnish) | few leaves / 1g |
| Green Pea Dumplings | |
| Frozen green peas | 2 cups / 350g |
| Wanton skin | 20 pieces |
| Coriander | few leaves / 2g |
| Salt | 1/8 teaspoon |
Cut cauliflower into small pieces and soak in water for 1 hour before cooking to reduce its potassium content.
Heat up vegetable oil in a medium stockpot. Add the leeks and onions, cook over medium heat for 2 to 3 minutes or until translucent.
Increase heat to high, add in the cauliflower and chicken stock. After bringing it to a boil, reduce the heat to medium and simmer for 15 minutes until the vegetables are soft.
Let the soup cool down, then puree the soup in batches using food processor and blend it till smooth.
Pass the puree through a strainer into a clean stock pot. Then, add fresh cream and season the soup with salt and pepper.
To prepare the green pea dumplings, soak the green peas in water for 15 minutes. Wash the peas lightly and strain it.
Boil a pot of hot water, blanch the green peas until soft. Mash them and season with salt.
Add 1 teaspoon of mashed peas on the wanton skin together with sliced coriander.
Wrap the skin and poach the dumpling in hot water for 30 to 45 second or until it is cooked, strain and cover the dumplings with cling wrap to prevent dry dumpling skin.
Add the dumpling to the cauliflower soup. Garnish with fresh chervils before serving.
Recipe available in English and Chinese. Download PDF here
Using home made chicken stock to replace commercial chicken stock cube can reduce up to 80% of sodium content.
Cut the vegetables into smaller pieces then soak them in water for at least an hour helps to reduce the potassium content.
Recipe courtesy of Chef Jason Koh from ITE College West, in collaboration with NKF Dietitians.