Healthy Yu Sheng with Passion Fruit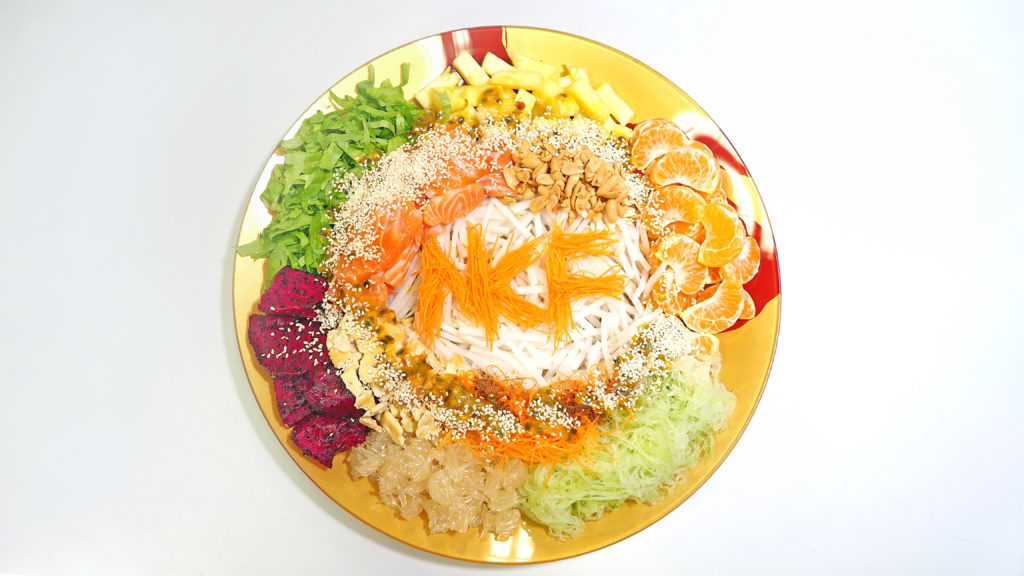 Healthy Yu Sheng with Passion Fruit
| | |
| --- | --- |
| Fruits | |
| Red Dragon Fruit | 150g |
| Pomelo Sacs | 6 tablespoons |
| Mandarin Oranges | 2 medium |
| Pineapple, Sliced | 150g |
| Vegetables | |
| Cucumber, Shredded | 1 cup |
| Carrot, Shredded | 1 medium |
| Daikon, Shredded | 1 cup |
| Lettuce, Sliced to Thin Shreds | 2 cups |
| Other Ingredients | |
| Toasted Sesame Seeds | 3 tablespoons |
| Salmon, Sashimi Grade | 150g |
| Roasted Peanuts, Finely Chopped | 4 tablespoons |
| Chinese 5-Spice Powder | ½ teaspoon |
| Cinnamon Powder | ½ teaspoon |
| Chinese White Ground Pepper | Dash |
| Extra Virgin Olive Oil | 1 tablespoon |
| Wholemeal Crackers, Crushed | 10.5 square crackers / ¾ cup |
| For The Sauce | |
| Passion Fruit Pulp | 3 whole |
| Plum Sauce | 2 tablespoons |
| Lime Juice | 1 tablespoon |
| Honey | 1 tablespoon |
Slice the fruits (A) and shred the vegetables (B).
Prepare the other ingredients (C) in different serving saucers and mini bowls.
Make the sauce by mixing (D) in a small bowl.
Season to taste and set aside.
In a large round serving plate, pile up shredded vegetables (B) at the center of the plate.
Arrange the sliced fruits (A) around the shredded vegetables on the plate.
Serve the Yu Sheng with (C) in the middle. While adding the ingredients to the plate, say the corresponding auspicious wishes for each ingredient.
Pour sauce (D) over Yu Sheng in a circular motion.
Recipe available in English and Chinese. Download PDF here
Disclaimer:
Individual who is at higher risk of food borne infection (eg. Pregnant women, infants/toddlers, elderly and people with weakened immune system (such as patients with kidney failure) should consider minimize/ avoid eating raw food. It is suggested to replace raw salmon with canned tuna in oil/ cooked fish.
You may consider changing up the fruits to your preference in similar colours.
For people with kidney disease, you are encouraged to practice portion control and take just ½ dessert plate if you need to limit your potassium intake!
Enjoy this fibre-rich Yu Sheng while it is fresh!
Recipe contributed by: NKF Dietetics Team