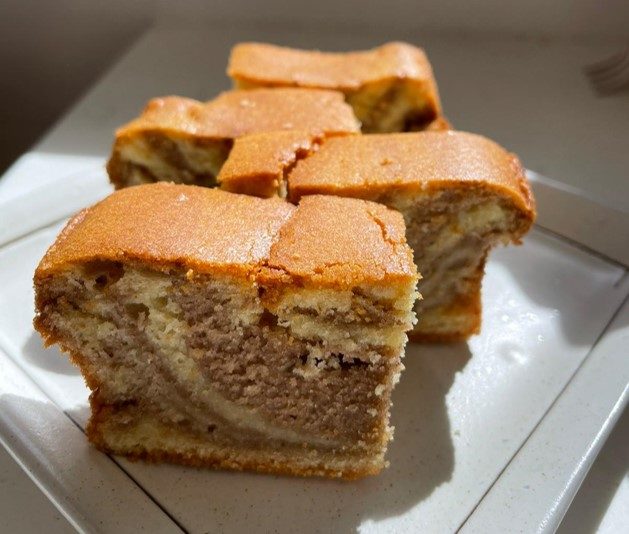 | | |
| --- | --- |
| Margarine, reduced saturated fats (HCS) | 170g |
| Egg white | 4 |
| Egg yolk | 4 |
| Sugar | 60g |
| Artificial sweetener (e.g. Equal Gold, Monk Fruit Sweetener) (Optional) | 5g / 6 x 0.8g sticks |
| Plain flour, sifted | 130g |
| Baking powder, sifted | ½ teaspoons |
| Vanilla essence | ¼ teaspoon |
| Condensed milk | 1 tablespoon |
| Evaporated milk | ½ tablespoon |
| Cocoa powder, sifted | ½ tablespoon |
Preheat oven at 180°C.
Beat margarine until light and fluffy. Set aside.
Whisk egg whites until soft peak and gradually add in sugar and sweetener. Mix well.
Add in egg yolks, one at a time, beating well after each addition.
Add in the beaten margarine, mix well.
Fold in baking powder and plain flour.
Add in vanilla essence, condensed milk and evaporated milk. Stop beating once it is well-mixed. .
Divide the mixture between 2 bowls– original and cocoa. Add in cocoa powder into the mixture in one of the bowls.
Grease the 5 x 9 inches baking pan lightly with margarine and a little bit of flour. Line the baking pan with baking paper.
Take a scoop of the original mixture and place in the baking pan. Then, add a scoop of the cocoa mixture to layer on top of the original mixture in the pan.
Repeat step 10 until there is no mixture left. Finish with the original mixture as the top layer.
Give the baking pan a little shake until the mixture sits evenly.
Bake for 30 minutes at 180°C or until cooked.
Cooking Tips!
Constantly check the cake to prevent overbaking by poking a toothpick through the centre. If the toothpick comes out clean, it means that the cake is ready.
Not all artificial sweeteners are suitable for baking, examples of those baking friendly sweeteners are: Equal Gold, Lakanto Monk Fruit Sweetener and Splenda Zero Calories.
Recipe available in English and Chinese. Download PDF here
Using margarine with Healthier Choice Symbol (HCS) – Lower in Saturated Fats can help to reduce 53% of saturated fats content as compared to commercial marble cake.
Using artificial sweetener to replace sugar helps in reducing sugar content in this recipe yet to maintaining the cake's flavour. However, it is advisable to use it in moderation to prevent craving for intense sweetness.
One serving of the marble cake contains 17g of carbohydrate, which is equivalent to 1 slice of white bread. Practicing portion control helps in weight management, while is also important for diabetics to prevent blood sugar spike for better blood sugar control.
Recipe courtesy of Ms Atiqah Aznam.