Oven Baked Prawn with Spicy Oriental Mandarin Sauce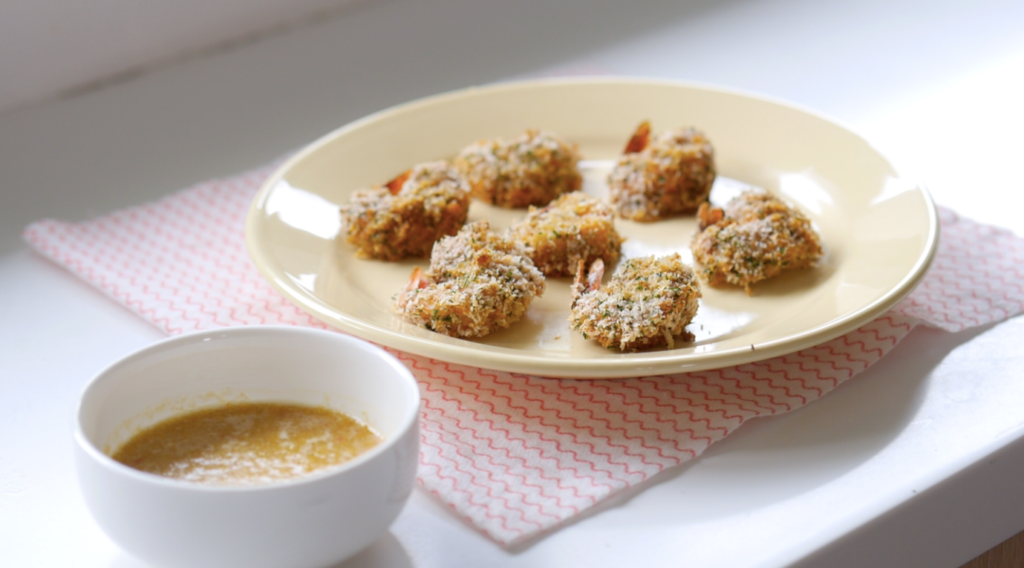 Oven Baked Prawn with Spicy Oriental Mandarin Sauce
| | |
| --- | --- |
| Spicy Oriental Mandarin Sauce | |
| Mandarin orange, peeled and seeds removed | 1 whole |
| White sugar | 15g |
| Onion, diced | ⅛ whole (20g) |
| Garlic, minced | 2 cloves (9 g) |
| Low sodium soy sauce | 1 teaspoon |
| Red chili flakes | ¼ teaspoon |
| Vinegar (Apple cider) | ¼ cup (65g) |
| Five spice powder | ¼ teaspoon |
| Mandarin orange zest | ½ teaspoon |
| Water | 1½ cups (375g) |
| Oven Baked Prawn | |
| Fresh prawns, remove shells except tails | 500g |
| Breadcrumbs | 45g |
| Dried parsley | 3 teaspoons |
| Paprika | ¼ tablespoon |
| Lemon juice | 15g |
| Eggs (beaten) | 2 whole |
| Canola oil | 4 teaspoons |
Spicy Oriental Mandarin Sauce
Zest the mandarin orange with grater. Set the zest aside.
Heat up 1½ cups water in a pot and add in the peeled mandarin orange. Simmer for 10 minutes or until fruits are soft.
Add in all the ingredients, gently stir and let it simmer for 6-8 minutes. Then remove it from the heat.
Pour the mixture into a blender and grind it until smooth texture.
Ready to be served as the sauce at the side with prawns.
Oven Baked prawn
Preheat oven to 200°C.
Mix breadcrumbs, paprika and dried parsley in a bowl. Set aside.
Remove vein of prawns. Pat dry the prawns with paper towel.
Dip the prawns in beaten eggs then roll the prawn with breadcrumbs mixture. Shake off the excess. Repeat this step twice to make sure the prawn is thoroughly coated.
Line your baking tray with baking sheet. Place the prawns on the baking tray. Put some canola oil on prawns before putting into oven.
Bake for 10 minutes or until the prawns turn golden brown.
Squeeze some lemon juice on top and it's ready to serve with sauce.
Cooking Tips:
For a crispier texture, you can opt for air-frying instead of baking.
Recipe available in English and Chinese. Download PDF here
Prawn is a good source of protein. Removal of prawn head can help to reduce up to 70% of cholesterol content in a prawn.
Mandarin orange is citrus fruit, which rich in Vitamin C. It helps to strengthen the immune system, maintaining healthy skin and promote wound healing.
Sodium content can be reduced up to 60% by replacing commercial chilli sauce with homemade spicy oriental mandarin sauce.
Recipe courtesy of student from Singapore Polytechnic, Sim Jun Yi Nerissa and NKF Dietitians.