Prawn Pasta with Chicken Paprika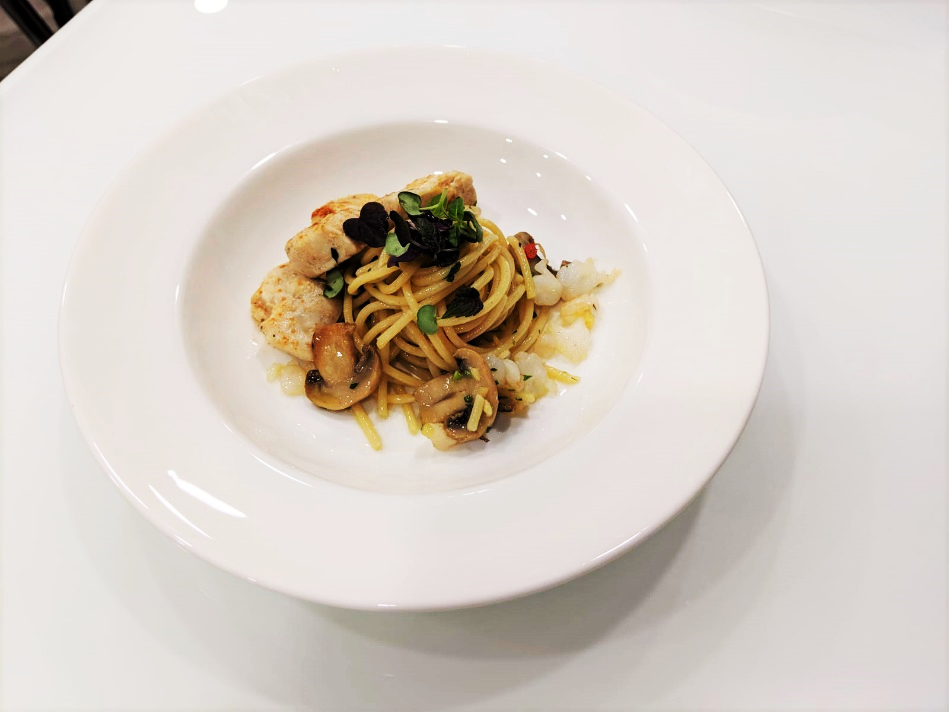 Prawn Pasta with Chicken Paprika
| | |
| --- | --- |
| Chicken Paprika | |
| Chicken breast, boneless and skinless | 200g |
| Paprika | 10g |
| Garlic, minced | 20g |
| Salt | 2.5g / ½ teaspoon |
| White Pepper | 10g |
| Plain Flour | 100g |
| Canola Oil (for frying) | 45ml / 3 tablespoons |
| Prawn Pasta | |
| Spaghetti | 200g |
| Prawn | 200g |
| Olive Oil | 40ml |
| Button mushroom, drained and cut small piece | 60g |
| Garlic, minced | 50g/10 cloves |
| Chilli Padi, sliced | 4g/ 2 pieces |
| Parsley, Chopped | 4g/ 1 stalk |
Cut chicken breast into bite-size chunks.
Season the chicken with salt, white pepper, minced garlic, and paprika. Coat the chicken with plain flour.
Heat up canola oil in a hot pan and add in the chicken. Sear the chicken for 5 minutes or until cooked. Set aside.
Blanch the spaghetti in boiling water for 10 minutes.
Heat the pan, add in olive oil, garlic and button mushrooms. Cook till fragrant.
Add in a bit of pasta water to cool down the pan.
Add in the chilli padi and prawns, and mix well.
Add in the spaghetti and mix well. Serve on a plate with paprika chicken and garnish with chopped parsley.
You can increase your fibre intake by additional low potassium vegetables such as spring onion and carrot.
Recipe courtesy of ITE West College Student, Goh Kan Yan Benjamin & Lua Eng Chau Fadrick