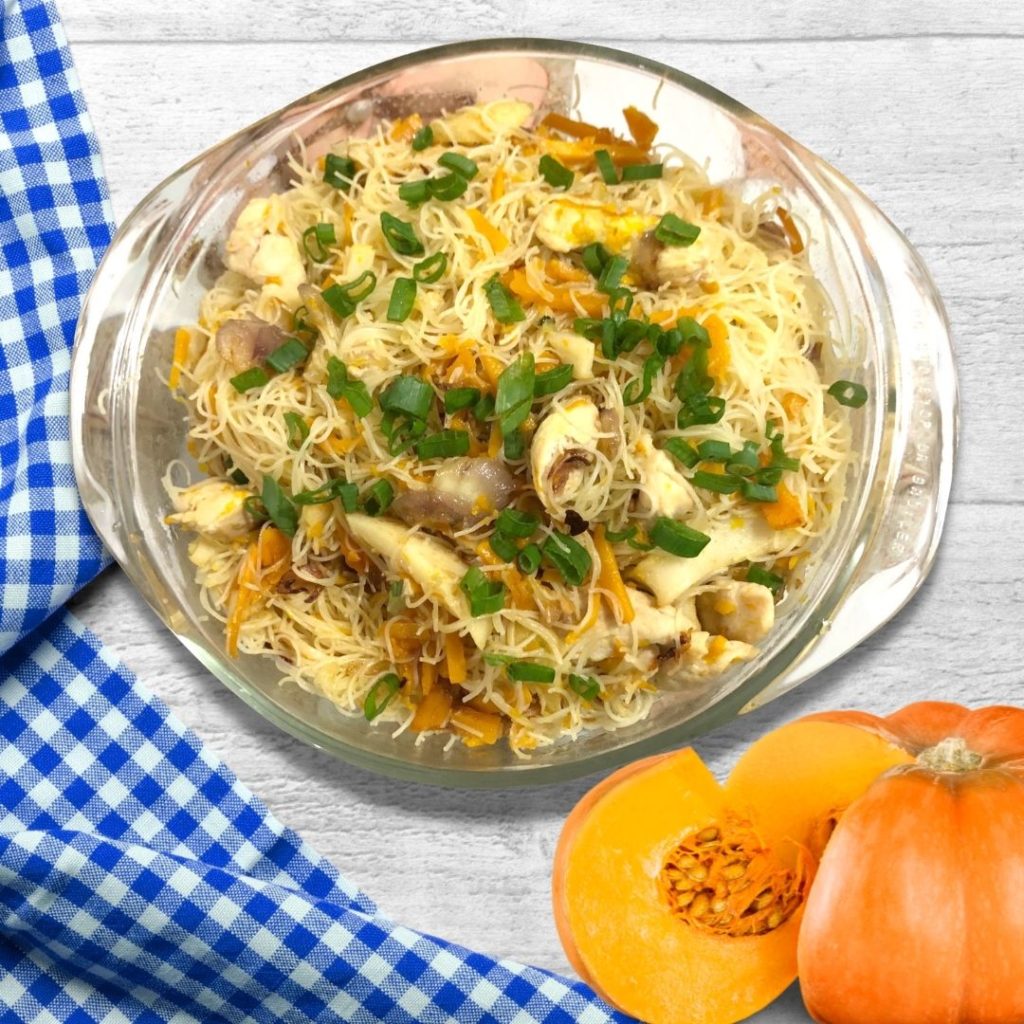 | | |
| --- | --- |
| Pumpkin, sliced | 400g |
| Carrot, finely sliced | 1½ medium / 100g |
| Chicken breast, shredded | 350g |
| Water | 250ml |
| Bee hoon (Rice Vermicelli) | ½ packet / 200g |
| Fish cake, sliced | 1 piece / 80g |
| Low sodium soy sauce, HCS | 2 tablespoons / 30ml |
| Garlic, finely chopped | 3 cloves |
| Canola oil | 2 tablespoons/ 30g |
| Spring onion, sliced | 1 stalk |
| Red chili, deseeded and sliced | 1 piece |
Soak bee hoon in water for 1 hour. Drain the water and set aside.
Heat up the oil in a wok. Saute garlic over medium heat until fragrant.
 Add in pumpkin, carrot, chicken breast and stir fry for 2 minutes. Then, add in water and simmer until the pumpkin is soft.
 Add in bee hoon, fish cake and soy sauce. Stir to combine well with the ingredient in the wok. Continue to stir fry until the beehoon is well cooked and soaked up the sauce.
 Garnish with spring onion and chili. It is ready to serve.
Recipe available in English and Chinese. Download PDF here
Chicken is good source of protein which helps to prevent muscle breakdown and maintain immunity.
Pumpkin is a type of winter squash vegetable which rich in antioxidant, a natural compound that helps to fight free radicals in the body. The antioxidant has a protector effect against cancer, ageing and heart disease. Also, it is one of the great source of Vitamin A, which helps to protect eyes and strengthen immune system.
The condiment or sauce with "Healthier Choice Symbol (HCS)-Lower in Sodium" contain at least 25% less sodium compared to similar products.
Recipe courtesy of Madam Lim Poh Tin.