Stir-Fried Hairy Gourd with Chicken and Glass Noodles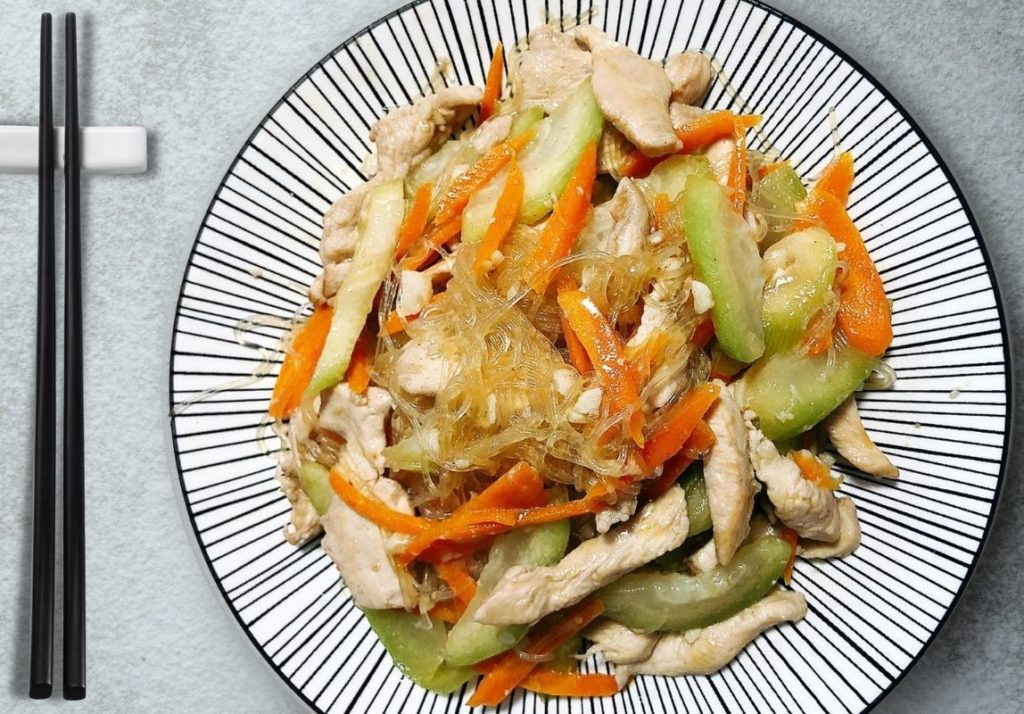 Stir-Fried Hairy Gourd with Chicken and Glass Noodles
| | |
| --- | --- |
| Chicken breast, finely shredded | 200g |
| Glass noodles (Tang Hoon) | 120g |
| Garlic, finely chopped | 2 cloves |
| Hairy gourd, sliced | ½ large/ 150g |
| Carrot, finely sliced | ¼ medium/ 25g |
| Cooking oil (eg Canola oil) | 1 tablespoon/ 15g |
| Low sodium soy sauce, HCS | 1 tablespoon/ 15g |
| Plain water | 1 cup/ 250ml |
| Sesame oil | 1 teaspoon/ 5g |
Soak glass noodles in water for 20 minutes. Drain off and set aside.
Heat cooking oil in a wok, add in garlic and sauté it till fragrant.
Add in hairy gourd and carrot, stir fry for 1 minute. Then add in chicken strips and continue to stir fry.
Add in glass noodles, plain water and soy sauce. Mix well.
Cover the wok with lid and let it simmer for 2 minutes or until noodles turn soft.
Finally, add in sesame oil. It's ready to serve.
Recipe available in English and Chinese. Download PDF here
Chicken is rich in protein which helps to prevent muscle breakdown and maintain immunity. You can replace it with other protein sources such as prawn.
Glass noodle is source of carbohydrate which is important to provide energy for our body. It can be a staple food for our composite meal.
The condiment or sauce with "Healthier Choice Symbol (HCS)-Lower in Sodium" contain at least 25% less sodium compared to similar products.
Recipe courtesy of Madam Lim Poh Tin.