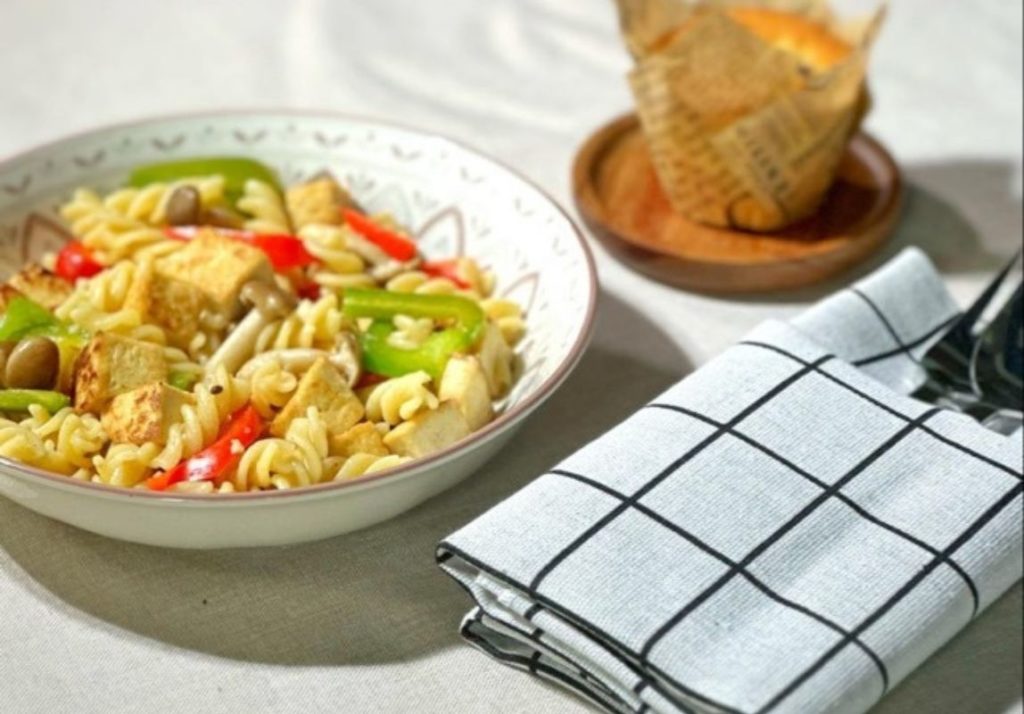 | | |
| --- | --- |
| Pasta, uncooked | 150g |
| Tau kwa (firm tofu), pat dry and cut into small cubes | 200g |
| Green capsicum, sliced | ½ |
| Red capsicum, sliced | ½ |
| Shimeiji mushroom | 150g |
| Garlic, chopped | 4 cloves |
| Canola oil / Sunflower oil (for stir frying) | 1 tablespoon |
| Canola oil / Sunflower oil (for boiling pasta) | 1 teaspoon |
| Salt | ½ teaspoon |
| Black pepper | ½ teaspoon |
Fill ½ pot with water and bring to boil. Add pasta and oil. Cook for 5 minutes. Drain away the water and transfer pasta to a bowl. Set aside.
Scoop out a ladle of pasta water to use in later step.
Heat wok with some of the oil over medium heat and pan-fry tau kwa until golden brown. Once tau kwa is cooked, transfer to a bowl and set aside.
In the same wok, heat remaining oil over high heat and stir-fry garlic until fragrant.
Add in capsicums and mushrooms. Stir fry and mix well.
Add pasta water that was previously set aside.
Add in the cooked pasta and tau kwa. Give it a toss.
 Season with salt and pepper. Mix well before serving.
Recipe available in English, Chinese and Malay. Download PDF here
Tofu is a good source of protein, which helps to prevent muscle breakdown and maintain immunity. However, it is rich in Phosphate content. Don't forget to take your phosphate binder with your meal for better phosphate control.
Capsicums and mushrooms contain good sources of fiber. Fiber can help in lowering total blood cholesterol.
Using natural herbs and seasonings such as black pepper and chili flakes, can enhance the flavour and aroma of the dish while keeping the sodium content minimal.