NKF commemorated its 48th anniversary, in conjunction with the World Gourmet Summit's (WGS) 21st year running, with a charity gala dinner at Swissôtel The Stamford on 6 April 2017.
The dinner was attended by over 460 guests, with Minister for Health Mr Gan Kim Yong as the Guest-of-Honour. The aim of the charity dinner was to ensure that NKF has sufficient and sustainable funds to  provide quality renal care for needy kidney patients, and raising public awareness of the need to prevent chronic kidney disease and failure.
NKF's patient advocates took to the stage, expressing their gratitude for the tireless work of nursing staff and strong support of our donors, for taking them through their dialysis journey, with their music and dance performances.
The spirit of volunteerism was also seen through the participation of Haha Music & Entertainment performers, who showcased their talents. The night also featured a collaboration with NKF patient Mr Darren Lee, as singer-songwriter Ms Lin Si Tong joined Darren in his rendition of "You Raise Me Up". Other notable acts of volunteerism included award-winning flutist Mr Rit Xu's recital, as well as HHG Ambassador Mr Shaun McEwan from the Helping Hand Group Pte Ltd, who was the auctioneer for the night.
Table sales, cash donations, and auctions helped raise a record amount of over S$1.1 million, surpassing the target of $800,000, to which would go towards ensuring that NKF's needy kidney patients continue to receive affordable and sustainable dialysis treatment, and that education and prevention efforts continue, as NKF endeavours to reduce the rates of diabetes and hypertension – both of which are the leading causes of kidney failure in Singapore.
The success of this event would not have been possible without the generous contributions of all participants and buyers, as well as the World Gourmet Summit.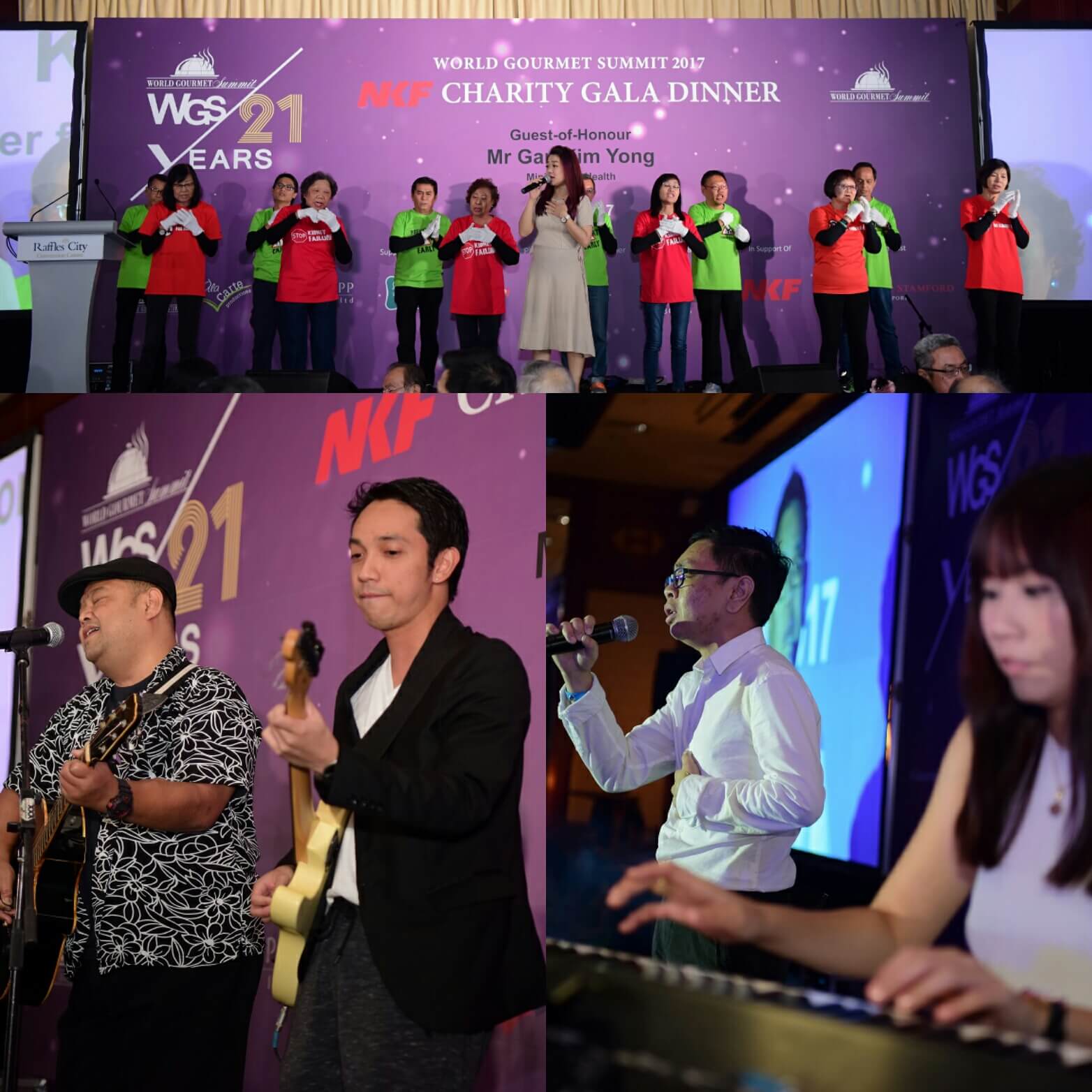 (Clockwise from top) NKF beneficiary Ms Wong Rui Jun with patient advocates, beneficiary Mr Darren Lee and singer Ms Lin Si Tong, and beneficiary Mr Nizam (left) with NKF staff, performing for the charity gala dinner.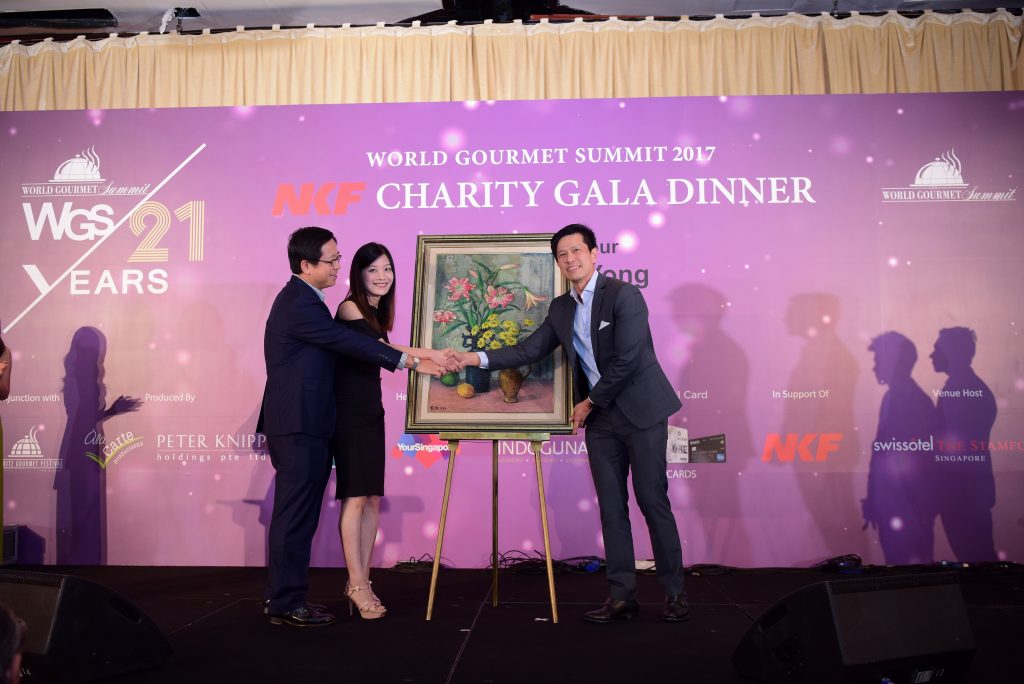 NKF Executive Committee and board member Mr Bennett Neo (right) presents an art piece to a pair of winning bidders.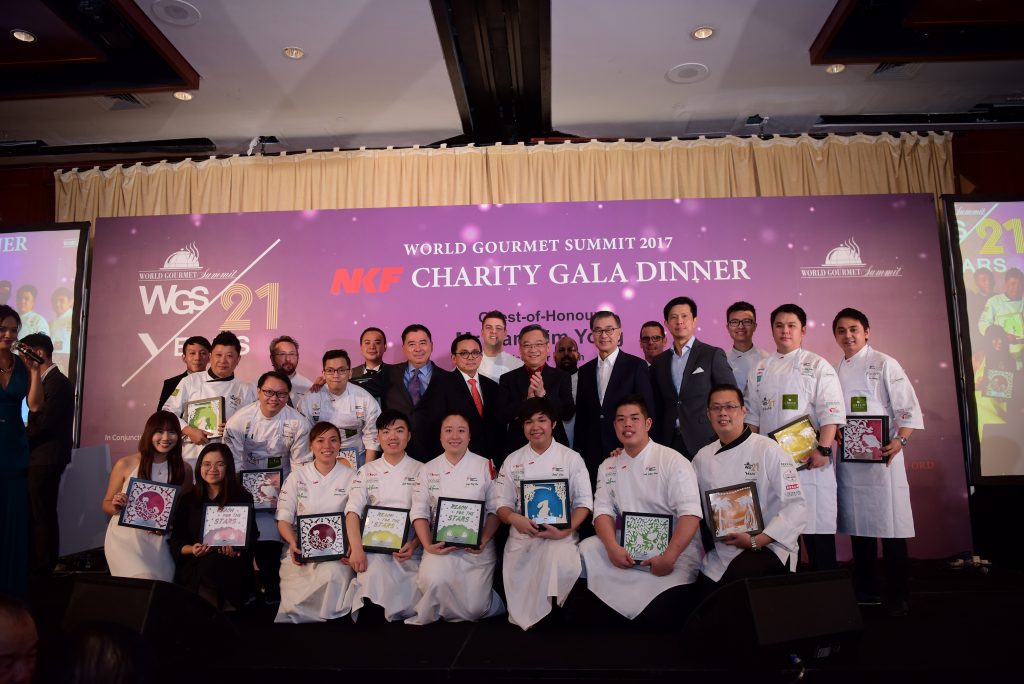 Minister for Health Mr Gan Kim Yong, flanked by NKF Executive Committee members and chairman Mr Koh Poh Tiong, together with the culinary team and volunteers, pose for a group photo, in recognition of their contributions for the night.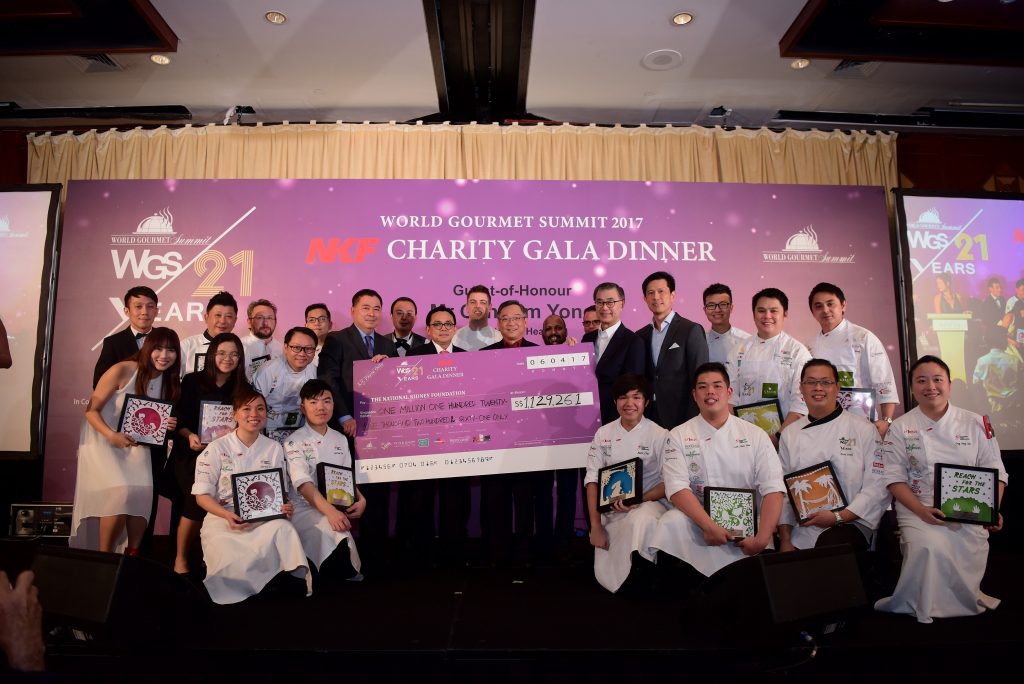 More than S$1.1m was raised to help needy kidney patients receive quality, affordable, and sustainable renal care.