Roasted Turkey Breast with Blueberries Compote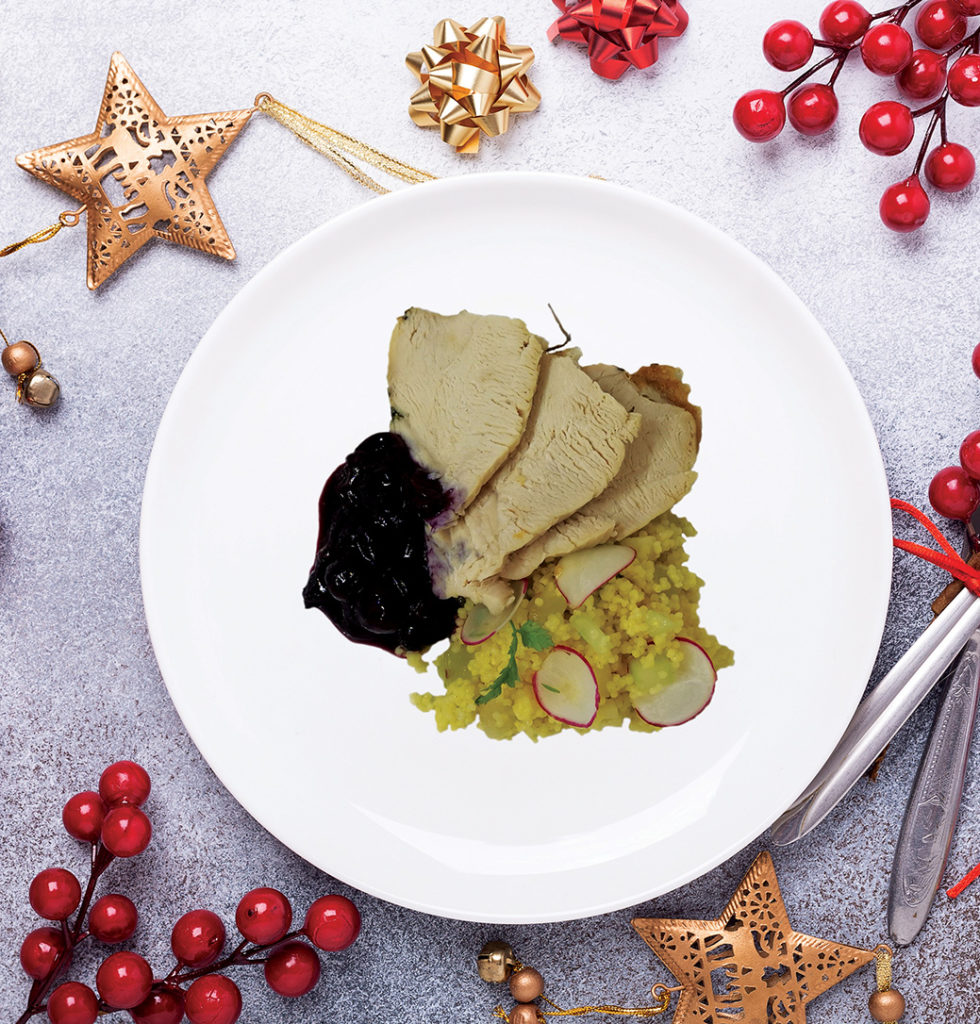 Roasted Turkey Breast with Blueberries Compote
| | |
| --- | --- |
| Roasted Turkey | |
| Turkey breast boneless | 1 kg |
| Unsalted butter | 250 g |
| Garlic | 11 cloves / 50g |
| Parsley | ½ stalk/ 20g |
| Fresh thyme | ½ stalk/ 20g |
| Salt | ¼ teaspoon |
| White pepper powder | ¼ teaspoon |
| Blueberries Compote | |
| Fresh blueberries (wash, drained) | 550g |
| Lemon juice | 2½ tablespoons |
| Lemon zest | 1 teaspoon / 1g |
| Sugar | 1 tablespoon |
| Cinnamon stick - break into half | 1 piece |
| Salt | ¼ teaspoon |
| Water | 3 tablespooons |
Roasted turkey
Preheat oven to 180°C.
Mix butter, garlic, thyme, parsley, salt and white pepper powder in a bowl.
Coat half of the butter underneath the skin of the turkey, and the other half over the breast meat
Place the turkey in a baking dish. Bake for 15-20 minutes or until skin starts to turn brown.
Reduce oven temperature to 165°C. Bake for another 1 hour, basting occasionally with pan juices. Cover turkey with foil and let sit for 5-10 minutes if the skin is browning too quickly, then continue the baking process.
Let stand for 10 to 15 minutes before carving.
Blueberries compote
Mix all ingredients in a sauce pot. Cook over low heat for 5 minutes until berries soften.
Strain out the puree. Continue cooking the remaining juice until thickened.
Then, mix the berry puree with juice until well combined. Taste before serving.
Served the roasted turkey breast and blueberries compote with Millet salad.
Recipe available in English and Chinese. Download PDF here
Use unsalted butter, herbs and spices in cooking helps to reduce the sodium content.
Recipe courtesy of Chef Jason Koh from ITE College West, in collaboration with NKF Dietitians.