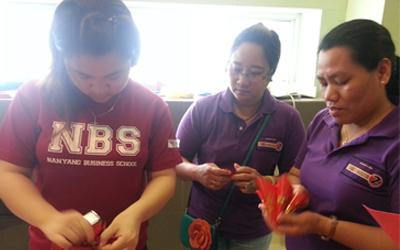 Spearheaded by 20-year-old Han Yong Ping, 23 former and current members from Nanyang Technological University's (NTU) Tourism and Hospitality Management Club organised the Chinese New Year party "Gift of Love" at Hougang 2 dialysis centre on 26 January 2014.
The group planned four activity stations – "guess the song", "guess the baby photo", lantern-making and Chinese calligraphy writing to create a fun and interactive experience for patients.
Besides patients from Hougang 2, the invitation was extended to Ang Mo Kio 3 patients as well. A total of 80 patients from both dialysis centres participated in the event.
Although this was the group's first attempt at planning a party for patients, they managed to secure sponsorship for the event – $350 worth of NTUC vouchers and packed lunch from Jessie Catering. The vouchers were used for lucky draw prizes and materials for the activity stations.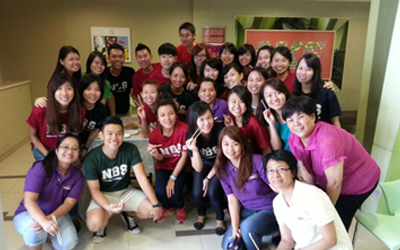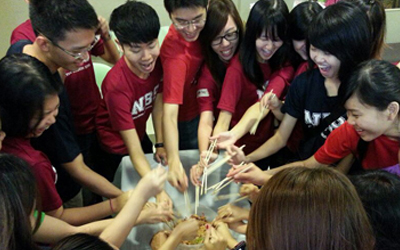 "It was not easy getting sponsors," said Yong Ping. "We were persistent in sending out numerous emails to local supermarkets and caterers. When NTUC and Jessie Catering agreed to help, the team was overjoyed and immediately began planning for this meaningful collaboration with NKF."
NTU alumni Koh Juan Zhen, 24, a management trainee with Sentosa Leisure Group added, "This is my first time interacting with kidney patients. I find the whole experience heart-warming."