"Being a nurse also means being a friend, a family member and a caregiver"
If someone had asked my teenage self what I wanted to be when I grow up, I would have replied that I wanted to become either a teacher or a nurse.
Coming from a big family with eight siblings, my father was the sole breadwinner. We were poor and unable to afford a helper, so my mother had difficulty looking after us. Thus, I had to take up the responsibility to assist her in caring for my younger brothers and sisters. That was when I realised I like caring for others.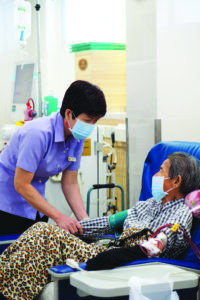 After completing my GCE O-Level, I enrolled in the nursing school to relieve my father's financial burden. Soon, I began a rigorous training programme to embark on my nursing career. Despite my young age, I knew clearly that I wanted a meaningful career and found my calling in the nursing profession. Nurses play a broad and far-reaching role in the healthcare system. We are the medical frontliners who spend the most time with patients, providing holistic care to nurse them back to health, physically, psychologically and emotionally. We further take on the role of health advocates, playing a crucial part in educating both patients and the public on the prevention of illness and injury.
As renal nurses, besides managing patients on dialysis, we have to handle our patients' multiple health conditions. Patients with mental health issues can be challenging since they think differently from other patients. Hence, we often need to take on multiple roles at the centre — as a friend, a family member and a caregiver.
Having been a nurse for 25 years, despite the stressful and demanding work environment, I remain driven and steadfast in my purpose in life. "I feel a sense of accomplishment when I watch my patients live a quality life in spite of their illness, and being able to bounce back from adversity. At the same time, I always find time to share my knowledge and guide my junior colleagues to become better nurses. I find joy watching them bloom into their roles with confidence and maturity."
"Sister Angie helped me to rebuild my confidence and showed me that dialysis patients can live a quality life too. She encouraged me to return to the workforce and expand my skill sets to match current industry demands. Through her, I rebuilt my confidence and learnt to walk tall, to hold my head up high and be proud of myself. Hope has returned to my life once again."

Catherine Lau
NKF Patient (2012 – 2021)
Kidney Transplant Recipient (January 2021)
Read the rest of our nurses' stories here