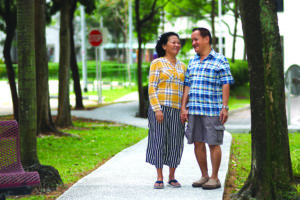 "Our friends always comment that we are never seen without each other", shares Mr Wong with a chuckle.
Mdm Lim Swee Yim, 62, and her husband Mr Wong Pak Chiu, 68, have been happily married for over 30 years.
No one would have guessed how their marriage was threatened by 'intruders' which changed their lives forever.
Mdm Lim was diagnosed with hypertension-induced kidney failure in 2010 after a bout of bad nausea and breathing difficulties. She has a family history of hypertension – her parents and siblings were all afflicted with the condition.
Unfortunately, her parents never talked about the condition and how it could be prevented or managed. She continued to eat and drink with abandon, ignorantly thinking that youth was on her side.
"I was only 24 years old and pregnant with my first child when I was told I had hypertension. It did not go away even after I gave birth which eventually led to kidney failure," recalls Mdm Lim.
Her health is not the only thing that was stolen from her. As a dialysis patient, Mdm Lim has to limit her fluid intake to not more than 1,000ml a day, and this includes soups and beverages.
"Singapore's weather is so hot. I miss being able to drink water freely," she laments. "It's not easy but my husband and children will keep a close watch on my fluid intake to ensure I don't go overboard."
Just a year after being diagnosed with kidney failure, Mdm Lim was hit with more bad news – she was found to have stage 1 breast cancer. It shattered their hopes for a kidney transplant.
"It pains me to see her suffer. I wanted to donate my kidney to her but we had to shelve the plans for a transplant as she had to undergo radiology and consume countless medications," sighs Mr Wong. "I also felt guilty that I had to work and was unable to accompany my wife for her radiology sessions."
Mdm Lim's challenges did not end there. In 2019, she had to wrestle with significant anxiety and insomnia issues. She was also riddled with irrational thoughts and out-of-character episodes. There were times she found herself in the bathroom, not knowing why she ended up there in the first place.
Her anxiety attacks were thought to be caused by poorly controlled hypertension.
"I never thought of giving up. She is my motivation to continue living.
I want her to be well again."

– Mr Wong Pak Chiu, whose wife Mdm Lim Swee Yim has kidney failure and breast cancer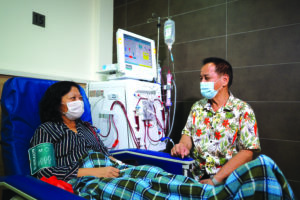 Besides her family, Mdm Lim also credits the support from NKF which helped her through her rehabilitation journey. She shares how the  nurses at NKF encourage her to attend dialysis treatments on time and receives helpful advice from the dietitian regarding her dietary choices and requirements.
She now works part-time as a restaurant help. In their spare time, the couple will go for quiet strolls together in their neighbourhood or frequent Chinatown to meet up with old friends over a drink or meal. Mr Wong will always pack dinner for her and bring it to the dialysis centre before she begins her thrice-weekly treatment.
Said Mr Wong, "I never thought of giving up. She's my motivation to continue living. I want her to be well again."
It was this stoic support from her husband, that even at the lowest point of her life Mdm Lim never felt like giving up. She knew that as long as he is by her side, they can weather any storm together.
Make a difference and support our patients