"When I was younger, I thought having kidney failure would hinder my life. It is just a condition. With PD, I can still do the things I want to do."
– Wan Ting
Twenty-year-old Ms Koh Wan Ting was born with kidney disease. It was another devastating blow to her family, especially her mother, who had lost her first child to kidney failure. Wan Ting was constantly in and out of the hospital throughout her young life. In 2010, at the age of 13, she had complications with her kidneys and had to be in the intensive care unit for several months. In December that year, she had to start peritoneal dialysis (PD) treatment as her kidneys had failed completely. Wan Ting is under the care of the Children's Kidney Centre (CKC) at the National University Hospital, which was established by NKF in 2002 to give a lifeline to children with kidney diseases.
Support from Family and Friends
It was during her primary and secondary school days that Wan Ting struggled to cope with the consequences of her illness. She had to miss her secondary one year-end examination. Her friends in school did not understand what she was going through and looked at her differently. They made fun of her and even gave her nicknames. It was during this difficult period in her life that Wan Ting had thoughts of taking her own life. However, her parents and two siblings gave her strong emotional support. She also drew strength and encouragement from her doctors, nurses and social worker, as well as peers at the CKC as being kidney patients themselves, they could relate to her pain and suffering.
Her Life is Not Disrupted with PD
Wan Ting undergoes PD in the comfort of her own home. It also provides greater convenience because, unlike haemodialysis, she does not have to travel to a dialysis centre every other day to receive treatment.
She does her 10-hour treatment every night where the PD catheter in her abdomen is connected to a PD machine. She carries out the entire PD process by herself. Most of her dialysis time is taken up while she sleeps at night. While on PD and before she turns in for the night, she does stretching exercises so that she does not feel tired, listens to music and is active on social media to connect with others. Doing these things keeps her mind occupied and helps her think less about her condition, allowing her to overcome her fears and anxieties. PD also gives her more flexibility as during the day, she can study, play and socialise without any disruption to her daily schedule.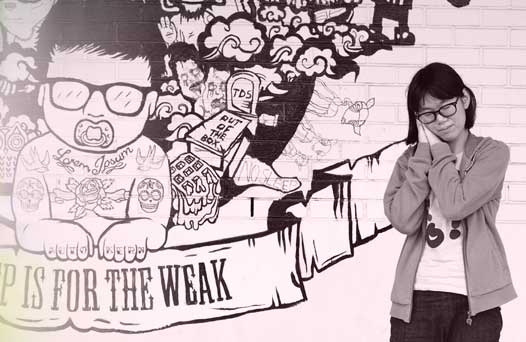 Determined to Make the Most Out of Her Life
In 2014, Wan Ting entered an Institute of Technical Education (ITE) College to study Human Resource and Administration. Her teachers and schoolmates had been very supportive of her mental well-being and academic progress. With all the support provided, she managed to fast track her four-year course to three years, graduating last May. She is now furthering her studies in Business Study Grouping at a polytechnic. "Before, I dwelled in self-pity. Now, I smile a lot. I've learned that it is important to love oneself and have the right mindset."