"I wanted to be a lawyer, but nursing is my calling"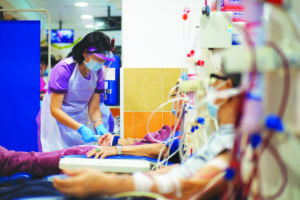 My childhood dream was to become a lawyer. However when my high school results were released, I was shocked to find I missed the high school of my choice by 0.5 points! I was devastated that I fell ill and took nearly three weeks to recover. When I returned to school, my form teacher asked if I wish to consider nursing. "Fine" was what I answered without much thought, as I was very upset with myself.
The 4-year full time nursing diploma course started in September 1990. As time went by, I found healthcare fascinating. Just like the 'angel in white', my teacher, a retired nurse, was soft-spoken, motherly, disciplined and caring.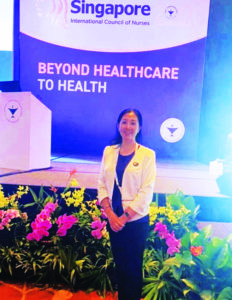 I remembered I was excited to don the same white uniform my teacher wore. I felt like I was already a nurse — young, beautiful and confident. However, throughout the years of studying my diploma and working at a tertiary teaching hospital, I saw what nursing was really about and especially the ugly side of the job: dirty sheets, smelly wards, patients suffering, and a hectic work environment.
I was physically and mentally exhausted every day. Being a nurse at that time was nothing more than a job that paid the bills.
In July 1999, I learnt from the local gazette that NKF Singapore came to recruit nurses. I was excited at the overseas opportunity and was successfully selected to work as a Health Care Assistant (HCA).
"At NKF, all patients suffer from the same condition — kidney failure. Everything was new to me but the environment gave new meaning and hope in the nursing profession. I became eager to learn well and to do well. I steadily progressed from HCA to Enrolled Nurse, Registered Nurse and am now a Clinical Nurse Manager."
As I become more competent and confident in the job, my passion grew. I enjoy helping my patients and making them laugh in the dialysis centre. This is where I found the true meaning of nursing. I am proud to say nursing is my calling.
Read the rest of our nurses' stories here