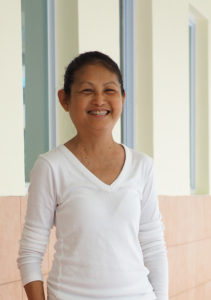 I was 16 years old when I was diagnosed with systemic lupus erythematosus, a disease that occurs when the body's immune system attacks the tissues and organs.
My struggles
The disease affected my studies and I had to take my O-Level twice. However, I did not manage to obtain satisfactory results both times. Once, I was so sick that I even had to be sent to the Intensive Care Unit (ICU).
After resting for about one year, I grew restless and decided to start working with my friends. It was my last job at an events seminar company. The work was exhausting but at the same time, rewarding. Finally, after working for twelve years, my health deteriorated which led to kidney failure and I needed dialysis to sustain my life. My religious faith has been a guiding light in my life, especially through my darkest times.
Doing well on dialysis
I was determined to do well with my treatment and I am thankful for the good care provided by NKF to help me along the way. Not only do they help the needy patients through subsidies, its staff are also very caring and kind towards the patients. The nurses have all become my friends.
"I feel happy and hopeful and I always encourage fellow patients to also remain strong and optimistic."
Encouraging fellow patients
Being strong-willed and having the strength and courage to fight on, I want to encourage other patients too. As I undergo dialysis three times a week, I often meet other dialysis patients and their families. Whenever some of them appear depressed or worried, I would offer words of encouragement and motivate them to face their illness with a positive mindset.
Worrying needlessly is not beneficial to your health and it could create a vicious cycle, making your life more difficult than it is.
I also remind my fellow patients to follow the instructions of the doctors and nurses and to be mindful of their diet. I tell them not to give up easily and value the resources expended for our dialysis. I also visit elderly patients without families who have been hospitalised so that they would not be lonely.
I have been on dialysis for the last 14 years and I am still strong. I now do online marketing, selling vintage and semi-precious items to earn a living. Despite my illness, I am also able to care for my father who had a stroke last year and take him for his regular therapy.
For me, when there is life, there is hope and I want to share this hope with those around me.
– Joycez Zhuang, 44