"I feel responsible for my patients' ability to perform home dialysis"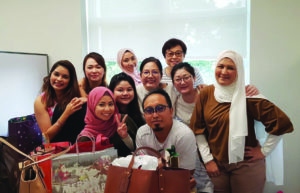 I realised that I wanted to be a nurse when I was taking care of my elderly grandfather who was frequently hospitalised. I admired how the nurses patiently cared and treated my grandfather. I found that it was a noble job and from then on, I decided to fulfil my career in nursing. I was keen in community nursing and wanted to focus on a discipline that I could specialise in.
As a peritoneal dialysis (PD) nurse, I provide PD training for patients and their caregivers so as to ensure they are competent and confident to perform their dialysis at home independently and safely.
As I conduct home visits alone, I have to make critical decisions on my own when there is an issue. It is important to have experience and apply the knowledge I have gained in any given situation at the patient's house.
The biggest takeaway for me in this career is that it brings me a sense of satisfaction when my patients recover from the care that I have provided for them. I learned that the patients' health problems can arise from their living conditions and they need the support of PD nurses to advise them accordingly in order to avoid readmission to the hospital. This drives me to learn and be a better advocate for the patients when they seek help from me.
"There are times when patients and caregivers speak rudely to me even though I am helping them manage their therapy better. They sometimes make me feel unwelcome when I go to their houses and are not appreciative of the help given. At times like these, I feel like giving up. However, I continue to be optimistic and try to empathise with them. I understand that they are going through a difficult time while trying to cope with the illness. I will continuously reassure them that help is always available for them if needed.
I aspire to promote PD awareness to the community and share my experiences with new nurses to get them interested in community nursing.
Read the rest of our nurses' stories here