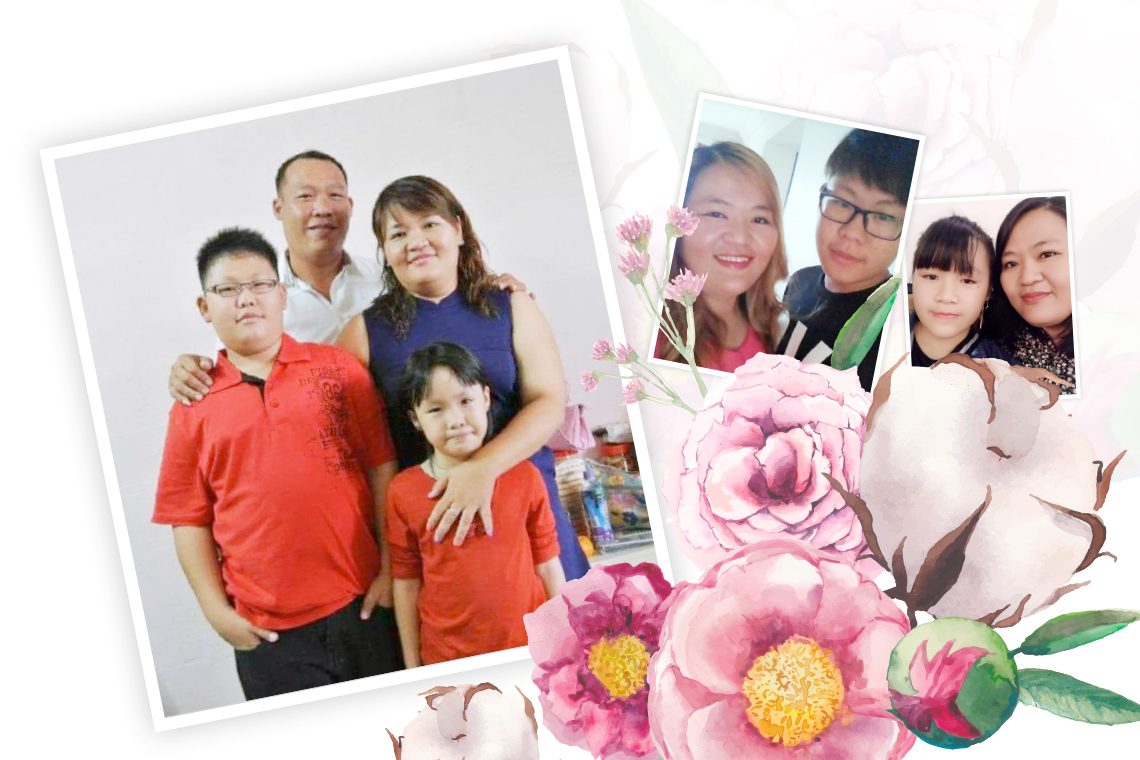 A mother's love is powerful. In celebration of Mother's Day, we pay tribute to mothers who go the extra mile for their family; mothers such as Madam Angelina Sim May Ling, who goes to great lengths to look after her family despite being a kidney patient.
"Five years ago, I was so sick that I was warded at the intensive care unit. The doctor informed me that I had kidney failure. I was devastated and could not stop crying as I could not accept the diagnosis. Thankfully, my family encouraged me and gave me the strength to stay strong.
Going the Distance
During the first month of treatment, I stayed with my family in Singapore. It was tough as I had to be away from my husband and children who stay in Malaysia. I decided that I would take the extra time to travel from Johor Bahru to Singapore for my treatment as long as it meant I could spend more time with them.
It takes about three hours to travel both ways every Tuesday and Thursday. It's a long and tiring trip but it's worth it as I can continue looking after my family.
Despite my health, I consider myself blessed as I have a very supportive family. My 14-year-old daughter used to accompany me to my dialysis sessions when she was younger as my husband had to work and there was no one to look after her. She is very obedient, so I never had to worry about her. Now that she's older, she's able to look after herself when I'm at dialysis. She and her older brother, as well as my husband, also make the effort to help me out with the housework. Thanks to their help, I can manage the household chores just like I used to before my diagnosis.
A Helping Hand
I'm really grateful that my dialysis treatment is fully subsidised by NKF. Our family income is not high and we have to look after our two children. Not having to worry about financing the treatment of this chronic disease is a great weight off my shoulders. I'm also very thankful to the caring medical workers, like the medical social worker who helped me apply for this fully subsidised treatment.
There are many other mothers like me who suffer from kidney failure and struggle to cope with the emotional and financial stress that comes with it. Your donation will ease our burden and allow us to keep being there for our family. Please help as much as you can."
– Madam Angelina Sim May Ling, 41
Donate Now
母爱的伟大
母亲的爱是伟大的。 趁这个母亲节, 让我们向为家人无私奉献的妈妈们致敬,例如这位沈美玲女士。虽然身为肾脏病患者,但是她对家人的照顾始终无微不至。
"五年前,我病得非常重,还被安排转到加护病房。根据医生的诊断,我得了肾衰竭。听到这个消息的时候,我根本无法接受,万念俱灰。庆幸的是,家人的鼓励让我获得了必须坚强活下去的力量。
跨越国界
接受治疗的第一个月,我是住在新加坡的娘家。对我来说,这是一种煎熬,因为我和我的老公,孩子们分隔两地。他们都住在马来西亚。为了争取更多和他们相处的时间,我宁愿花多点时间从新山到新加坡接受治疗。
每个星期二和星期四,我都会往返新山和新加坡,每次大概需要三个小时。尽管车程又长又累只要我能继续照顾家人,这一切都值得。虽然患病,我认为自己很幸运,因为我拥有非常支持我的家人。
因为老公要上班,再加上家里也没有人可以照顾当时年幼的女儿,我会带着她一起去洗肾中心。她很乖巧懂事,从来不需要我操心。现在女儿也14岁了,有能力自己照顾自己。当我去洗肾时,她和她的哥哥连同我的老公,都会主动打扫、收拾房子。有了他们的帮忙,我现在还能一如往常应付家务。
获得援助
我们的家庭收入并不高,还要照顾两个孩子。肾衰竭又需要长期治疗,费用很大。我非常感恩,能够获得全国肾脏基金的全额医疗费补助,让我免费接受洗肾治疗,减轻经济压力。我也很感谢热心的社工们,尤其是那位帮我成功申请全额津贴的社工。
有许多像我一样患病的妈妈,承受肾衰竭所带来的精神和经济的双重压力。你们的捐款将能减轻我们的负担,同时让我们可以继续维持如常的家庭生活。在此,我衷心谢谢你们的慷慨解囊。"
– 沈美玲, 41岁