What is sodium?
It is an essential mineral for maintaining body fluid balance. Salt contains 40% sodium and is found in sauces, condiments, preservatives and canned foods.
Why is it dangerous?
Excessive sodium intake can lead to hypertension, which is one of the leading causes of kidney failure, stroke, and heart disease. It also induces excessive thirst which may lead to excessive fluid intake. How much should I take? The recommended sodium intake is limited to 1 teaspoon (tsp) of salt or 2,000mg of sodium per day.
How to read a nutrition label?
Sodium can be sneaky! Take control of your sodium intake by reading the nutrition labels during grocery shopping.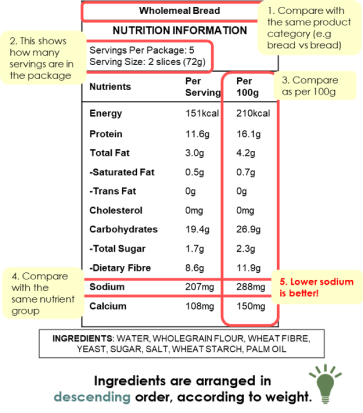 Food to be aware of includes: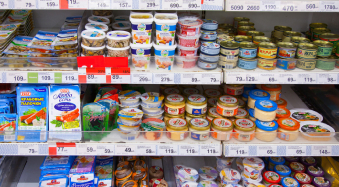 Preserved and processed foods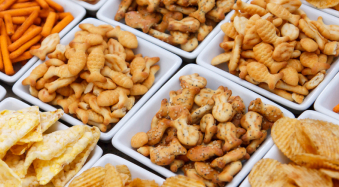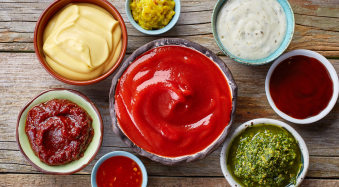 Gravy, soup, stock cube, seasonings, and sauces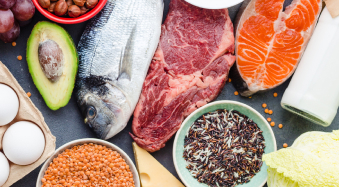 Natural foods with a higher-than-average sodium content, including cheese, seafood, olives and some legumes
Swap for Healthier Alternatives
Here are some simple tips to help you limit the amount of sodium you consume when dining out: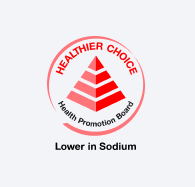 Find the healthier choices on the menu
Check the nutrition information of menu items before you order and choose foods with less sodium. Lookout for the "Lower in Sodium" Healthier Choice Symbol by the Health Promotion Board. Food items carrying this logo contain at least 25% less sodium compared to similar products.
You can ask
Don't be afraid to ask the staff questions about how the food is prepared and if they can make substitutions or arrangements so that your dish has less salt. For example, ask for less gravy or sauces and salad dressings to be "on the side" so you can control how much you add to your dish.
Look out for hidden sodium
Words like marinated, pickled, smoked, breaded, brined, au jus, in broth or teriyaki may mean your dish contains high amounts of sodium.
Share your food
Order smaller portions or share with someone. You will cut the sodium, calories and fat in half.
Prepare meals at home
Eat out less often and cook at home when you can. This way, you are able to control the amount of sodium added to your meals.
| No | High Sodium Choices | Sodium Content (mg) | Lower Sodium Alternatives | Sodium Content (mg) |
| --- | --- | --- | --- | --- |
| 1 | Roasted chicken rice | 1,112 | Steamed chicken rice | 698 |
| 2 | Deep fried fish bee hoon soup with milk | 2,708 | Sliced fish soup without milk | 1,808 |
| 3 | Mee siam with gravy | 2,347 | Mee siam without gravy | 1,008 |
| 4 | Seafood tomyum ban mian soup | 4,439 | Pork dumpling ban mian soup | 2,816 |
| 5 | Creamy chicken pasta | 1,161 | Prawn aglio olio | 786 |
| 6 | Chicken masala with gravy (150g) | 768 | Chicken tikka (100g) | 263 |
| 7 | Fried prawn crackers (100g) | 750 | Rice crackers (100g) | 369 |
| 8 | Cheese fries (1 Plate, 186g) | 658 | Baked potato without dressing (1 whole, 202g) | 16 |
| 9 | Satay with gravy (10 Pieces) | 920 | Satay without gravy (10 Pieces) | 231 |
Source: Energy & Nutrient Composition of Food, Health Promotion Board, 2011
*Items 1 to 5 are based on 1 serving
Click here to download Shake Your Salt Habit Pamphlet