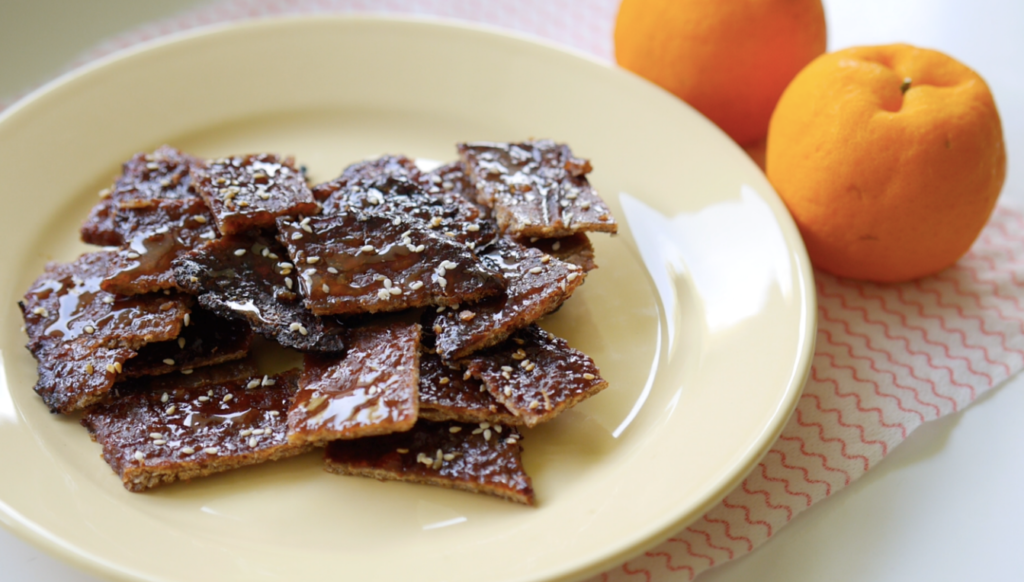 | | |
| --- | --- |
| Chicken thigh, minced | 1kg |
| Sugar | 70g |
| Oyster sauce | 1 tablespoon |
| Dark soy sauce (Healthier Choice Symbol), savoury | ½ tablespoon |
| Light soy sauce (Healthier Choice Symbol) | 2 tablespoons |
| Sesame oil | 1 teaspoon |
| Five-spice powder | 1 teaspoon |
| Ground white pepper | ½ teaspoon |
| Coriander powder | 1 teaspoon |
| Honey | 2 tablespoons |
| Water | 2 tablespoons |
| White sesame seed | 1 tablespoon |
Pre-heat oven at 150°C.
Mix the honey with water and set aside.
Mix all the ingredients (except honey water and white sesame seed) thoroughly in a big bowl. Blend them in one direction with spatula, and until the mixture turn gooey.
Marinate for at least 4 hours (or refrigerate overnight).
Place a large piece of parchment paper on a flat surface and add ¼ (fist size) of the marinated meat mixture onto it.
Place another piece of parchment paper on top of the mixture and roll it flat with a rolling pin until it is 2-3mm thick. Remove the top parchment paper and shape the mixture into an even rectangle.
Transfer the mixture (together with the parchment paper on the bottom) onto a large baking tray and bake the mixture in oven at 150°C for 15 minutes.
Remove from oven. Brush a layer of honey on the meat and sprinkle some white sesame seeds. Bake in oven at 200°C for another 5 minutes.
Repeat step 8 for the other side.
Use a scissors or pizza cutter to cut the bak kwa into pieces. Then, it's ready to serve.
Cooking tips:
Blend meat mixture till gooey, but do not over blend as it will affect the texture.
Constantly check the oven to adjust timing and temperature, to prevent over baking, especially after brushing with honey.
Recipe available in English and Chinese. Download PDF here
Using natural spices such as pepper and coriander powder, as well as using condiments/sauce with Healthier Choice Symbol (HCS) can help to reduce 70% of sodium content as compared to commercial chicken bak kwa.
One piece of this healthier version chicken bak kwa contains 9g of protein, which is equivalent to 3 egg whites.
Recipe courtesy of student from Singapore Polytechnic, Ho Wei Dian and NKF Dietitians.