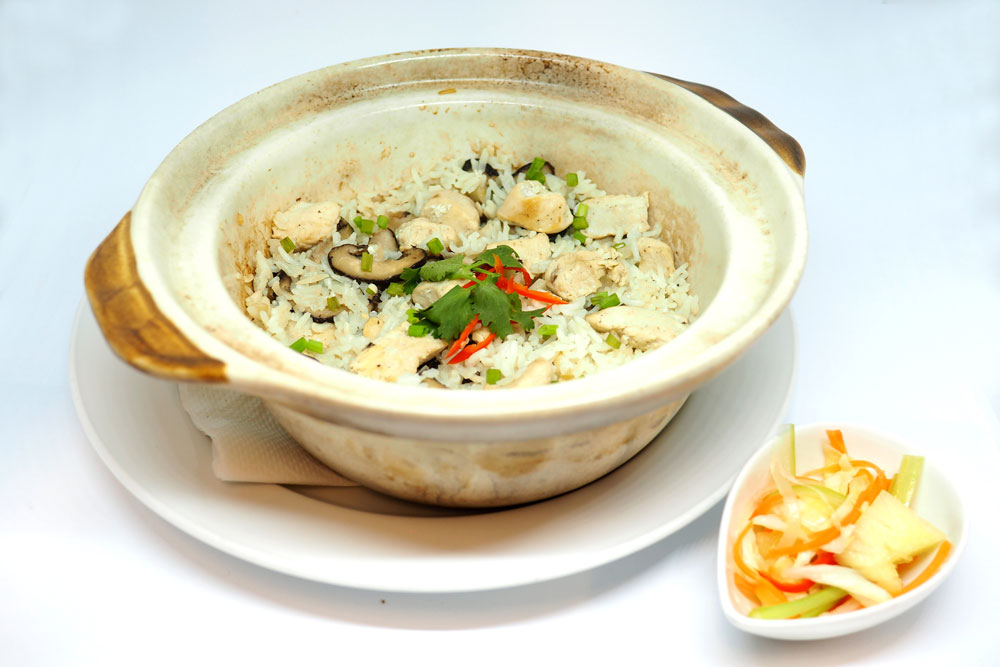 | | |
| --- | --- |
| Clay Pot Chicken Rice | |
| Chicken breast, boneless and skinless | 200g |
| Black Pepper | 10g |
| Button mushroom | 75g |
| Onion, chopped | 30g |
| Pandan Leaves | 2 pieces |
| Lemongrass | 20g |
| Vegetable Stock | 500ml |
| Jasmine rice, raw | 150g |
| Canola oil | 40ml/ 2.5 tablespoons |
| Coriander Leaves, chopped | 4g / 1 stalk |
| Spring Onion, chopped | 4g / 1 stalk |
| Vegetable stock | |
| Carrot | 200g |
| Celery | 150g |
| Onion | 150g |
| Water | 1litre |
Vegetable Stock
Wash and peel all the vegetables and cut into small cube size.
Add 1 litre of cold water in a pot and add all the cut vegetables.
Bring to a boil and simmer for 45 minutes. Strain the stock and set aside.
Claypot Chicken Rice
Cut the chicken breast into cube size.
Season chicken breast with black pepper and a 10ml of Canola oil.
Heat up canola oil in a clay pot, saute garlic and onion till fragrant.
Add rice, vegetable stock, chicken breast, mushroom, pandan leaves and lemongrass.
Bring to boil over medium-high heat and then cover with a lid. Allow it to simmer on low heat for about 20 minutes.
Garnish with spring onion and coriander leaves.
You can increase your protein intake by adding in egg or meat.
This recipe uses homemade vegetable stock instead of commercial stock that help to cut down your sodium intake.
Recipe courtesy of ITE College West Student, Lim Kai Ling & Ong Cai Ting