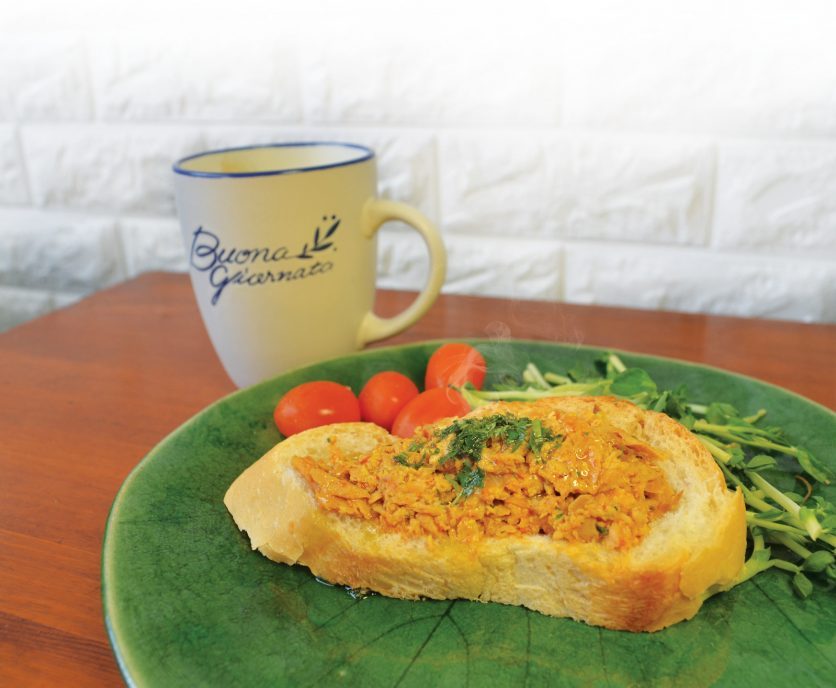 | | |
| --- | --- |
| Baguette slice | 1 inch thick |
| Onion chopped into small pieces | ¼ piece |
| Tuna | ¼ can |
| Laksa leaves, finely chopped | 3 |
| Chilli paste | ½ teaspoon |
| Turmeric powder | 1 dash |
| Salt (optional) | 1 pinch |
| Egg (beaten) | 1 |
Add tuna into the egg mix.
Heat and fry chilli with turmeric powder and onions till fragrant.
Add egg mixture into the frying pan.
Fry everything together and roll.
Switch off the stove, sprinkle laksa leaves onto the hot egg.
Serve on a slice of baguette.
Skipping breakfast may lead to many risk factors, including obesity, high cholesterol, and diabetes, which may increase the risk of kidney failure over time.
Breakfast should be taken within 2 hours from the time of waking up to replenish loss of nourishment during sleep
Try to eat breakfast at the start of the day otherwise hunger pangs will result in overeating at lunch and dinner
Physical strength and endurance can be built by eating breakfast
Eating breakfast improves moods and concentration levels, and reduces stress level
Choosing the right type of breakfast matters too! Otah Baguette is a simple recipe rich with omega-3 fatty acids, which may help decrease triglycerides, reduce blood clotting, lower risk of stroke and heart failure.
Recipe contributed by: Chong Oi Foon, Patient of Yishun 1 Dialysis Centre