Healthy Vegetable Tofu Dumplings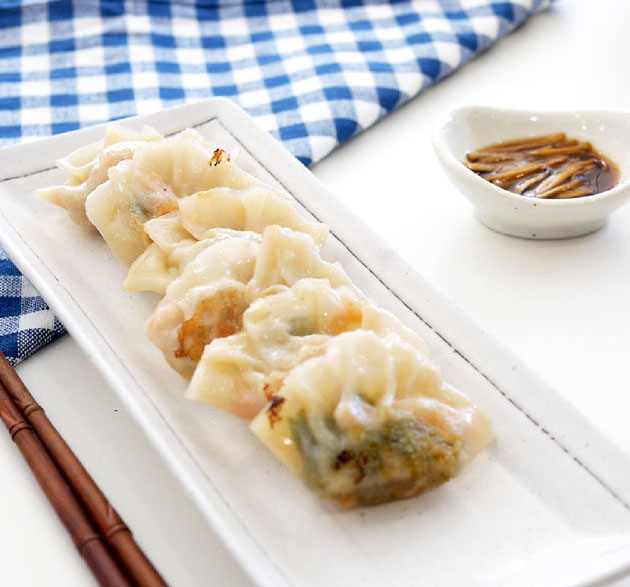 Healthy Vegetable Tofu Dumplings
| | |
| --- | --- |
| Dumpling skin | 20 pieces |
| Napa cabbage (or Chinese cabbage), finely shredded | ½ cup / 50g |
| Carrot, finely shredded | ½ cup / 60g |
| Tofu, extra firm, diced | 2 blocks / ~200g |
| Onion, chopped | 1 tablespoon / 10g |
| Garlic, chopped | 1 tablespoon / 15g |
| Ginger, chopped | 1 tablespoon / 5g |
| Egg white, beaten | 2 |
| Cooking oil (e.g. canola oil, sunflower oil) | 3 tablespoons |
| Water (as required) | ½ cup / ~130ml |
| Sauces | |
| Black pepper powder | ½ teaspoon |
| Sesame oil | 1 teaspoon |
| Light soy sauce (HCS) | 1 tablespoon |
Heat a large wok or skillet over medium-high heat and add 1 tablespoon of oil. Sauté ginger, onion and garlic until fragrant.
Add in cabbage and carrots, stir fry for 2 minutes or until tender. Then, add in tofu to gently stir fry for 1 minute.
Add in all sauces, stir fry for another 1 minute.
Remove the mixture from heat, and let it cool for 5 minutes. Next, add in egg white and mix well.
To wrap the dumpling, put 1 tablespoon of mixture to the middle of dumpling skin and fold in half to create a semicircle. Fold and press left to right to create 5 to 6 pleats along the edges of the dumpling. Repeat this step for all 20 dumplings.
Heat up the pan and add 1 tablespoon of oil. Pan fry 10 dumplings at medium high heat. Reduce to medium low heat when it turns golden brown.
Pour ¼ cup of water into the pan. Cover it immediately and allow dumplings to steam for about 3 minutes or until water has evaporated.
Repeat steps 6 to 7 for the remaining dumplings.
It's now ready to serve.
Cooking TIPS!
Drain away the excess gravy from the cooked vegetables before sauces are added, to prevent the dumplings becoming too soggy with watery mixture.
Recipe available in English and Chinese. Download PDF here
Egg white and tofu are good source of protein. Protein rich foods can help to prevent muscle breakdown and maintain immunity.
However, Tofu is rich in Phosphate content. Don't forget to take your phosphate binder with meal for better phosphate control.
The condiment or sauce with "Low in Sodium" Healthier Choice Symbol (HCS) contain at least 25% less sodium compared to similar products.
Recipe inspired by website: https://www.jessicagavin.com/crispy-vegetable-tofu-dumplings/