Healthy Vegetable Tofu Dumplings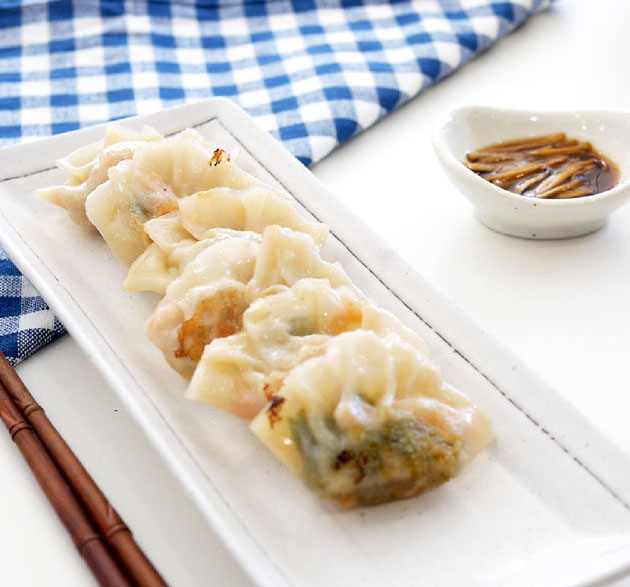 Healthy Vegetable Tofu Dumplings
| | |
| --- | --- |
| Dumpling skin | 20 pieces |
| Napa cabbage, finely shredded | ½ cup |
| Carrots, finely shredded, roughly chopped into smaller pieces | ½ cup |
| Tofu, extra firm, diced | 1 box (300g) |
| Black pepper, freshly ground | ½ teaspoon |
| Sesame oil | 1 teaspoon |
| Soy sauce | 1 tablespoon |
| Egg, beaten | 2 egg whites |
| Vegetable oil | 3 tablespoons |
| Water (as required) | ½ cup |
| Optional | |
| Ginger, minced | 1 tablespoon |
| Onions, finely minced | 1 tablespoon |
| Garlic, minced | 1 tablespoon |
Heat a large wok or skillet over medium-high heat and add 1 tablespoon of oil.
Sauté ginger, onion and garlic until fragrant. And remove from heat.
Cook napa cabbage and carrots for 2 minutes till tender, and add in tofu to gently stir-fry for 1 minute.
Drain away the excess gravy from the cooked ingredients, if any.
Then, in a bowl, mix above ingredients with napa cabbage, carrot, tofu, beaten egg, black pepper, sesame oil and soy sauce.
Moisten the edges on one side of the dumpling skin lightly with water using a brush or finger and add 2 to 3 teaspoons of filling onto it.
Fold and press the sides together to create a semi-circle shape and press out any air to ensure that they stick together.
Fold and press left to right to create 5 to 6 pleats along the edges of the dumpling.
Repeat steps 5 to 7 for the remaining dumpling skins.
Heat a non-stick pan over medium-high heat and add 1 tablespoon of oil.
Add 10 dumplings to the pan and fry for 2 minutes until the bottoms turn golden brown.
Reduce heat to medium-low and pour ¼ cup of water into the pan very carefully and slowly to avoid oil splatter.
Cover the pan immediately and allow dumplings to steam for about 3 minutes until water has evaporated.
Remove the lid and turn up the heat to medium-high.
Remove from heat after frying for 2 minutes until bottoms are brown and crisp.
To increase fibre:
Add low potassium vegetable like long beans into the dumpling filling
To limit sodium intake:
Control amount of sauce used for dipping
Reduce the amount of soy sauce used for the filling
Your type of finger-food during dialysis treatment