Lontong Goreng (Stir-Fried Lontong)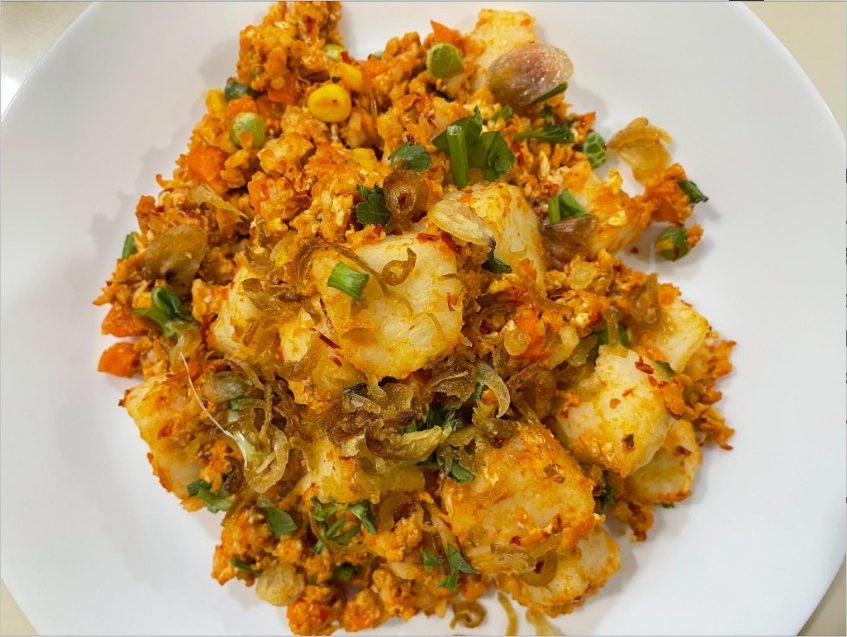 Lontong Goreng (Stir-Fried Lontong)
| | |
| --- | --- |
| Ingredients A | |
| Dried red chili | 8 pieces |
| Garlic | 2 cloves |
| Shallots | 3 pieces |
| Ingredients B | |
| Cooking oil (eg Canola oil) | 2½ tablespoons |
| Minced chicken | 200g |
| Salt | ¼ teaspoon |
| Sugar | ⅛ teaspoon |
| Frozen Mixed vegetables, defrosted | ½ cup |
| Egg, beaten | 2 |
| Egg white | 2 |
| Lontong, cubed | 1.5 log / 750g |
| Spring onion | 1 stalk/ 2g |
| Fried onion | ¼ tablespoon |
Put ingredients A into blender, and blend until smooth.
In a pan, heat up cooking oil. Sauté the blended ingredients until fragrant.
Add in minced chicken and ⅓ cup of water. Leave it to cook with medium heat until water evaporates.
Add in salt, sugar and mixed vegetables.
Push all the ingredients aside to add the beaten eggs in middle. Mix well with the other ingredients.
Add in the lontong and toss well. Let it cook for 3-5 minutes before turning off the heat.
Garnish with spring onions and fried onions. It's ready to serve!
COOKING TIPS:
You may adjust amount of dried red chili according to preferred level of spiciness.
Recipe available in English, Chinese and Malay. Download PDF here
Frozen mixed vegetables is an affordable and convenient alternative to fresh vegetables for haemodialysis patients. It is lower in potassium and has a longer shelf life.
Homecooked lontong goreng is flavourful yet 65% lower in sodium compared to lontong goreng from the market, by using natural ingredients such as garlic, shallots and dried chilies replacing sodium-containing seasonings.
Recipe contributed by Ms Atiqah Aznam, NKF Dietetics Department