Nyonya Chicken with Apple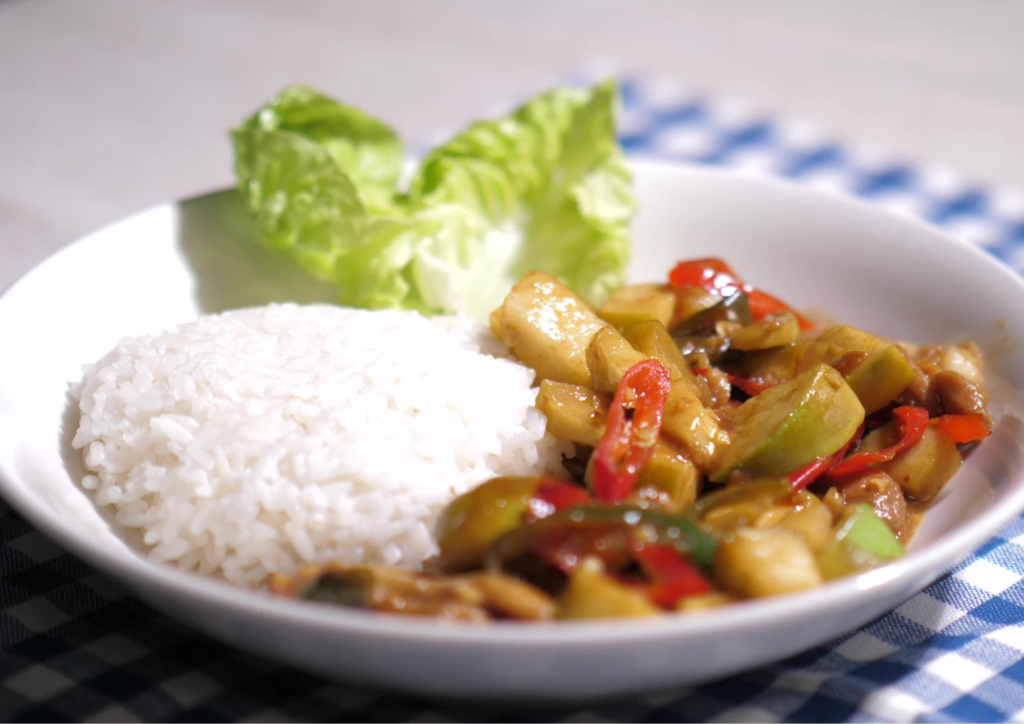 Nyonya Chicken with Apple
| | |
| --- | --- |
| Boneless Chicken Breast / Thigh (Sliced) | 300g |
| Green Apples (Diced and Soaked) | 2 mediums |
| Green Chillies (Sliced) | 2 wholes |
| Red Chillies (Sliced) | 2 wholes |
| Garlic (Minced) | 4 cloves |
| Palm Sugar | 6 teaspoons |
| Soybean Paste | 2 tablespoons |
| Assam Paste | 1 tablespoon |
| Cornstarch | ½ teaspoon |
| Salt | ½ teaspoon |
| Water | 3 tablespoons |
| Canola Oil (Marinade) | 1 ½ teaspoons |
| Canola Oil (Stir fry) | 3 teaspoons |
Marinate chicken slices with canola oil, cornstarch and soybean paste for 10 minutes.
 Heat wok with canola oil on medium-high heat. Add chillies and minced garlic. Stir fry until fragrant.
Add and stir fry marinated chicken until half-cooked.
Add assam paste, palm sugar, salt and water.Stir well.
Add diced apple and stir well. Let it simmer for 10 minutes.
Serve dish warm with your preferred choice of staples and enjoy!
Cooking Tip!
Choose skinless chicken thigh / breast to lower fat intake.
 Including apple (with skin) can help to increase fiber intake.
Recipe available in English and Chinese. Download PDF here