Spicy Tofu With Lemongrass And Basil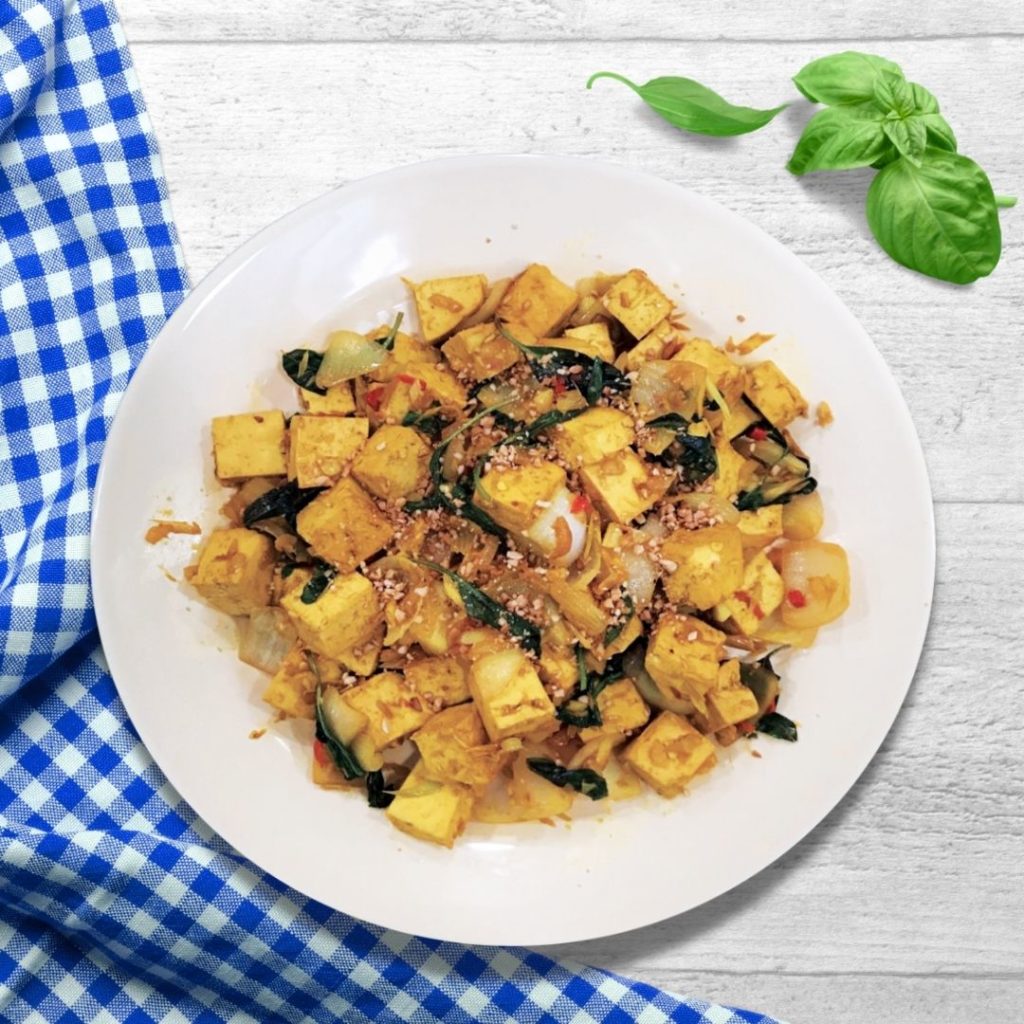 Spicy Tofu With Lemongrass And Basil
| | |
| --- | --- |
| To prepare marinade | |
| Fresh lemon grass, finely chopped | 3 stalks |
| Low sodium light soy sauce | 2 tablespoons |
| Thai bird's eyes chilli, finely chopped | 2 pieces |
| Sugar | 2 teaspoons |
| Ground turmeric | 1 teaspoon |
| Cooking oil (eg canola oil) | 1 tablespoon |
| To prepare tofu | |
| Firm tofu, sliced into blocks of 1cm thick | 4 pieces/ 400g |
| Cooking oil (eg canola oil) | 1 tablespoon |
| Shallots, finely sliced | 4 pieces |
| Garlic, chopped | 2 cloves |
| Thai basil leaves | 10g |
| Roasted peanuts, coarsely chopped | 2 tablespoons |
| Fresh lime juice | 1 tablespoon |
Prepare marinade by mixing all the ingredients in a bowl, then set aside.
Rinse tofu and pat dry with paper towels. Arrange in a single layer on a plate without leaving any gaps in between.
Pour marinade over tofu slices and spread evenly. Let it sit for 30 minutes.
Heat 1 tablespoon of oil in a wok, sauté shallots, and garlic until fragrant. Push to one side of pan.
Add tofu and stir fry gently, mix well.
Cook on medium heat, stirring occasionally for 5-7 minutes or until tofu is brown around the edges.
Stir in basil leaves and peanuts.
Turn off heat and squeeze lime juice over just before serving.
Recipe available in English and Chinese. Download PDF here
Use of natural herbs and seasonings such as turmeric, basil leaves and lemon grass are able to provide strong flavour and aroma to the dish, with minimal sodium content.
Tofu is a good source of protein, which helps to prevent muscle breakdown and maintain immunity. However, it is rich in Phosphate content. Don't forget to take your phosphate binder with meal for better phosphate control.
Recipe courtesy of Chef Shalu Asnani, from littlegreenkitchen.com.sg.