"When one door closes, another opens"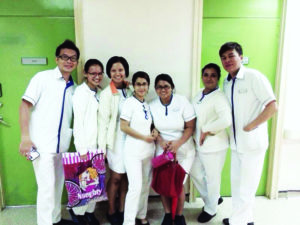 When I was in my last year of high school, I recalled being confused and unsure of the course to take in college. My parents run a grocery store business and I would help them after school and during term breaks. Gradually, I became interested in store operations and considered pursuing a business course. However, my mother was not supportive of the idea since running the grocery store requires a lot of time and energy, earning just enough to feed our big family. She encouraged me to be a nurse instead, seeing how some of our relatives could work overseas and lead comfortable lives.
After 4 years in college and passing the Nursing licensure examinations in 1994, there was a low demand for nurses in the Philippines. Life took an unexpected turn. I ended up working in the car industry as a sales executive and got married. As my family was growing, I decided to help and manage my parents' business instead. For almost 8 years, I was out of the nursing profession.
One day, my best friend's aunt who is a nurse asked if I wanted to join her and work in the United States. I saw that my mother was so excited at the opportunity of her son being able to work overseas. However it was a long-drawn process applying to the States and getting my credentials in order, given that I had minimal experience as a nurse at that time. After 7 years, I gave up the dream of working overseas as a nurse.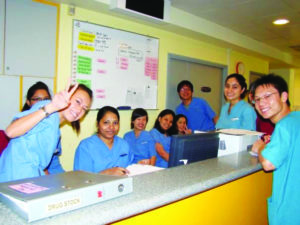 Fortunately, my nursing colleague informed me NKF Singapore is hiring dialysis nurses. My hopes were raised once again and I immediately applied for the position. Singapore is also nearer to my home country. I could go back easily if emergency arises, and still be able to financially support my parents and siblings.
In my first 3 years at NKF, I had the privilege to be one of the recipients for a scholarship to pursue a full time Advanced Diploma at Nanyang Polytechnic (NYP). Compared to the Philippines, the nurses in Singapore are required to go through many courses and seminars to be updated with the latest practices. This was especially so during the pandemic with evolving instructions and precautionary measures in line with the situation.
During the pandemic, my dialysis centre was designated by the Ministry of Health (MOH) as the National Centre to manage acute respiratory infection and Persons Under Quarantine (PUQ) for all haemodialysis patients. I worked very closely with my supervisors to prepare, set up and manage the centre, as well as decant the existing patients from my centre to the other centres within a short time frame. During this period, the demands and the situation got overwhelming. However, I took the oath to practise my profession faithfully and do whatever it takes to help those who are in need. I am grateful to be awarded the Hero Award at the Singapore Health Quality Services Awards (SHQSA) 2021.
Nursing to me is more than a profession. I do not need to drag myself to go to work and I love what I do especially when I am with my patients.
As the Chinese philosopher Confucius once said "Choose a job you love, and you will never have to work a day in life." This is what nursing means to me.
Read the rest of our nurses' stories here