"In my 30s, I made the switch because of my daughter"

I am a mid-career switch nurse who previously worked in a business-related field for around 10 years. In 2018, I joined the Professional Conversion Programme (PCP) for Nursing by Workforce Singapore (WSG). My child was 3 months old when she was diagnosed with Idiopathic Thrombocytopenia (ITP) and had to be hospitalised.
We were told that she had to undergo Intravenous Immunoglobulin (IVIG) treatment if they were able to cannulate her, otherwise she would have to take oral steroids for months. As a mother, it was heartbreaking and stressful to watch my daughter go through the treatment at such a young age.
"The nurses in the ward were very kind, understanding and patient towards us. They took care of my daughter as though she was their family member. Their actions touched my heart greatly."
I remembered telling God when my current job ends, I would enrol into nursing because I want to be a nurse that touches people's hearts and lives as well. Thankfully, they were able to cannulate her and she was discharged on Mother's Day. My job also ended after my maternity leave and I applied for the programme.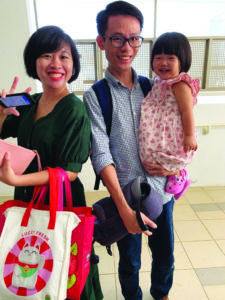 Following the programme, when I joined NKF in 2020 during the pandemic, I realised we were heavily dependent on foreign nurses to run the dialysis centres. One of my colleagues resigned and returned to her home country as she had not seen her child for more than a year. This pandemic made me realise the importance of community nurses. Without community nurses ensuring that the patients' condition is stable, hospitals would not be able to cope with the influx of COVID patients and chronic patients at the same time.
My nursing journey is full of challenges and there are times I feel like giving up. It was not easy to make the switch as nursing is a physically and mentally demanding job, but it is a rewarding and fulfilling job when we see patients getting better and they appreciate what we have done for them.
Read the rest of our nurses' stories here