Ms Pauline Tan, deputy director of nursing at NKF, was honoured with the prestigious President's Award for Nurses in 2023. It is the highest accolade in the nursing profession, given in recognition of nurses who have made significant contributions to the profession and the community, while also displaying outstanding competency, leadership and innovation. Pauline leads her team of 700 renal nurses to deliver exceptional care and service to over 4,500 dialysis patients. She has been a nurse and healthcare leader for over four decades.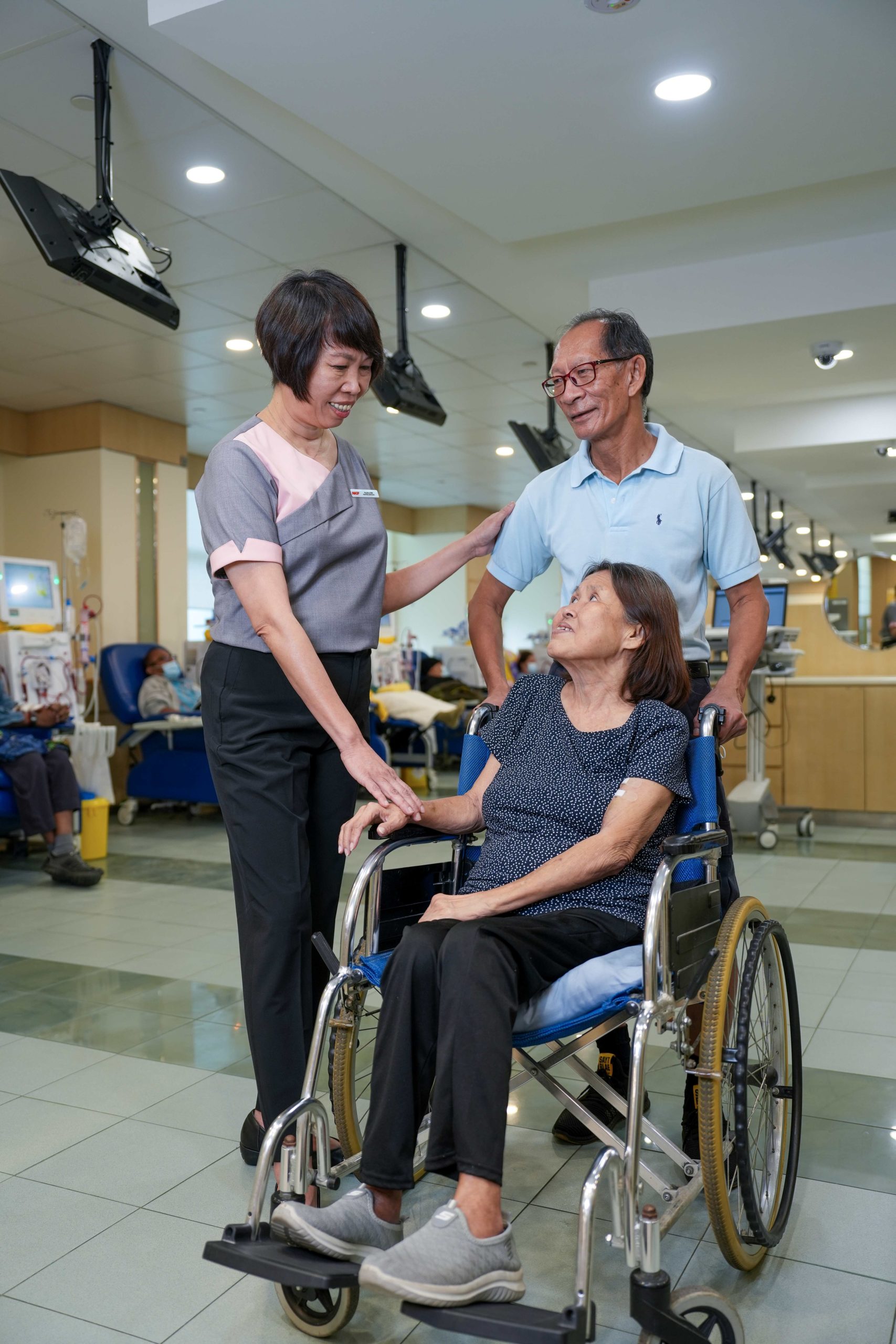 Many have come to know what a nurse does in recent years, the struggles they face and the sacrifices they make. I believe the Covid-19 pandemic has accentuated the bigger role that a nurse plays in helping patients, especially during critical times. But few are aware what it means to be a community renal nurse at NKF. It is more than administering dialysis treatment. The nurse needs to identify and reduce any risk of complications that arises from kidney failure including anaemia, bone disease, heart disease, high potassium and fluid build-up. We are also responsible for monitoring our patients throughout their treatment sessions, securing and analysing blood works, and educating patients and their caregivers on how to better manage their condition. We adopt a holistic approach in person-centred care, nursing patients physically, emotionally and psychologically.
Care becomes extremely complex for renal nurses because the majority of NKF's dialysis patients are the elderly. On top of the existing comorbidities, patients have a higher burden of age-related problems such as frailty, accidental falls and cognitive impairment. As a charitable organisation, we help needy patients and often, many also have psychosocial and family problems. Seeing their plight only makes me more determined than ever to journey with them to help them overcome their myriad of challenges.
"Care becomes complex, especially as the majority of patients are elderly with multiple comorbidities. You need to have the knowledge, the resilience and the passion to want to help another human being live life to the fullest."
In it together for the long haul
Unlike at the acute hospital setting, patients in the community care setting are with us for the long haul. My patients became my friends. Each time a close patient friend of mine passed on, I grieved. It was difficult emotionally and mentally; it still is today. But it is these feelings of closeness and compassion that allow me to enjoy the work I do and to support someone in their dialysis treatment and rehabilitation with the purpose of giving them life and hope.
It gives me no greater joy than to see my patients live their lives to the fullest. In 1999, I had a patient, Mdm Chng, who came to NKF and told us her doctor said she only has five to 10 years to live. But 10 years was not enough for her because she wanted to see her children in primary school grow up and start their own families. As her nurse and advocate, my team and I helped her achieve her goals. She was very involved in understanding her medical condition and complied diligently with the treatment and medication prescribed to her. After 18 years, Mdm Chng became a grandmother to seven beautiful grandchildren. She later passed on in 2019, having achieved her dreams. It gives me immense joy and satisfaction when I know I can make a difference in a person's life.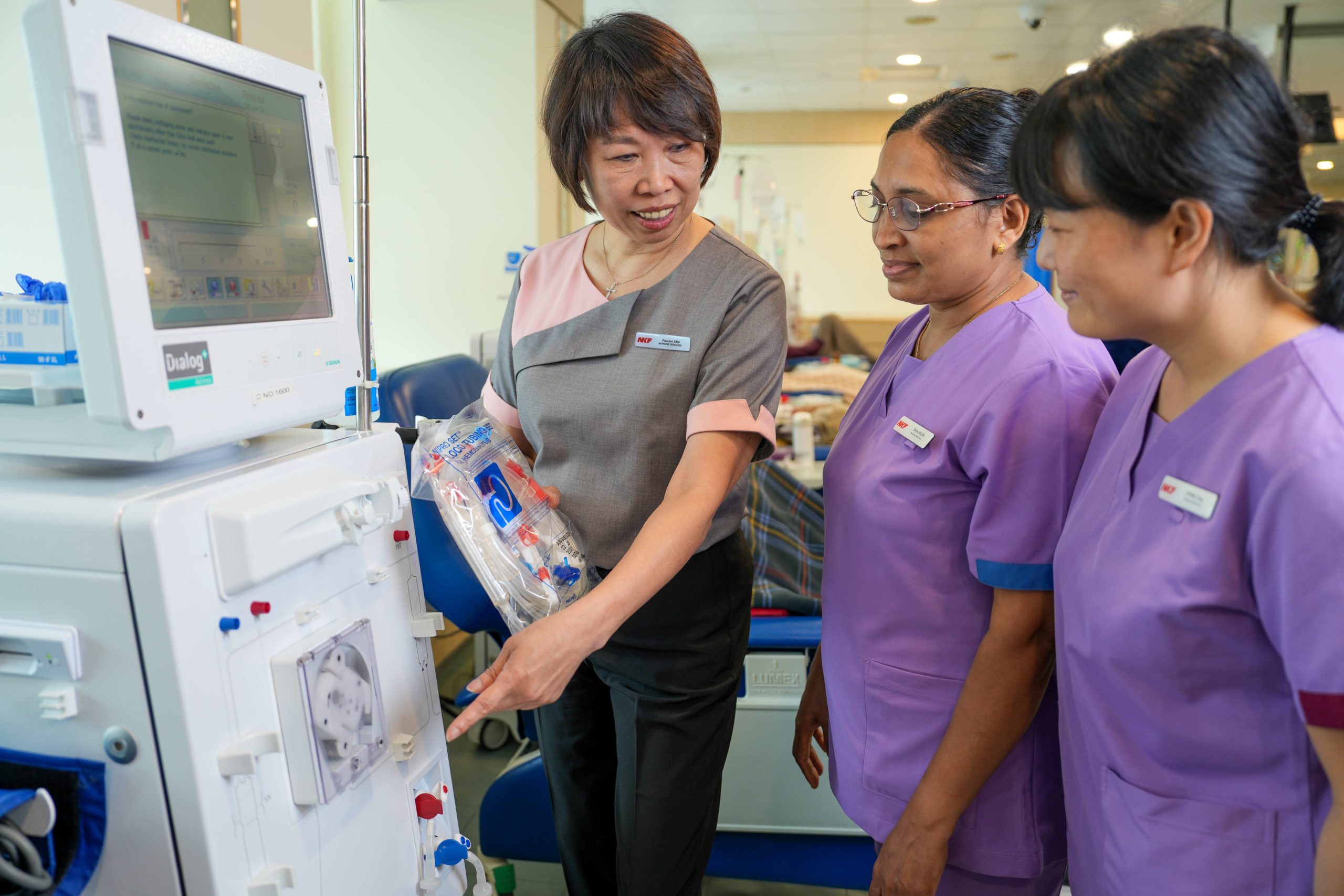 Many nurses like me have stories to share that has touched our lives. However, having the passion is not enough to fuel the fire. We need to do better and to do more. In recent years, I have set out to transform the nursing management team in empowering patients to make decisions for their clinical outcomes. I initiated and spearheaded the Renal Rehabilitation task force, collaborating with experts in various disciplines to develop a renal rehabilitation programme to empower patients to lead a quality of quality of life filled with hope.
I also have been actively engaging myself in projects and research. To help nocturnal dialysis patients reduce the pain and discomfort caused by the arm movement during dialysis treatment while they sleep, I introduced the plastic cannula. This provides patients a more serene sleep experience while minimising the chances of the cannula getting displaced or the need penetrating the skin. Another project I involved myself in was unblocking malfunctioning permanent catheter in our dialysis centres. The initiative has turned a one-day hospital admission into a procedure done at the dialysis centre, resulting in not only cost and time savings but also freeing up hospital beds for other critical needs.
"Medical innovation is always changing. Renal nursing requires a lot of knowledge and integration of that knowledge into practice. It is a continuous learning process."
Whenever I can, I volunteer during my days off to train volunteers. On weekends, I participate in the support group sessions for patients and caregivers to motivate patients to take charge of their health.
During the challenging times of the Covid-19 pandemic, I felt it was important to prioritise communication to boost staff morale and confidence, share critical information and be a pillar of strength to the 700 renal nurses. I made it a point to visit all 41 dialysis centres across Singapore to uplift them and address their concerns effectively.
I envision my nurses to be strong patient advocates to uphold patient rights and interests, and deliver quality care. Being a community renal nurse is indeed a highly skilled and well-rounded profession with diverse responsibilities including managing patients' care, educating patients, their caregivers and families, assessing their holistic wellness, and performing clinical procedures. Every day, our work presents different challenges, but what stays the same is being able to make an impact in our patients' lives and ensuring they lead a better quality of life.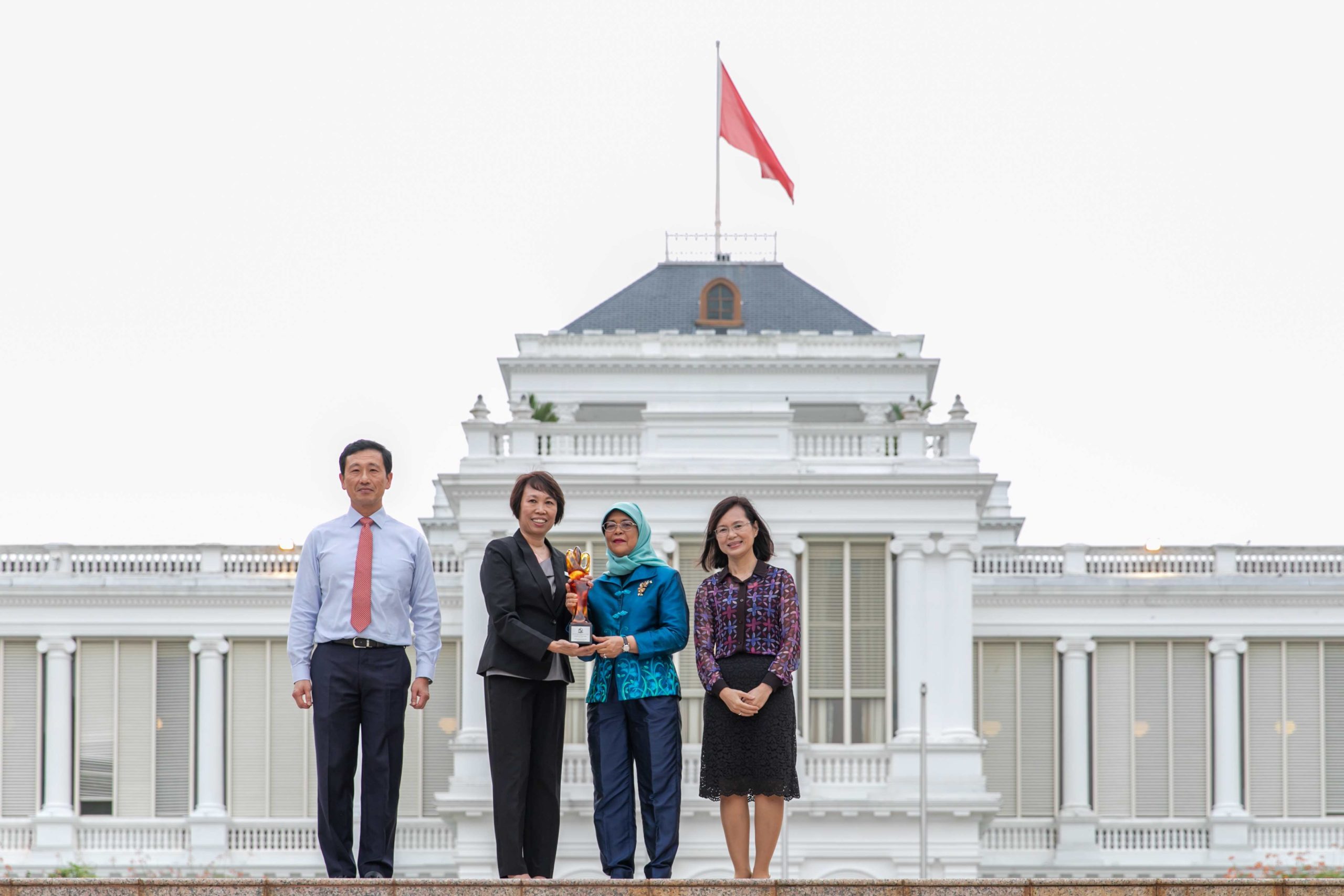 Pauline was conferred with the President's Award for Nurses by President Halimah Yacob in 2023 and is the first NKF nurse to be honoured since the inception of the award in 2000.