"Honouring the promise to my late aunt"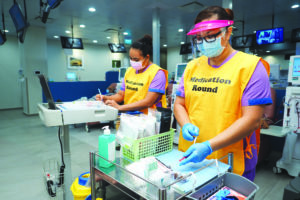 My journey of becoming a nurse started as an intention to honour a promise I made to my dear late aunt, whom I lost to breast cancer in 2003. During the last few months of her illness, I offered to keep her company while she was hospitalised in National University Hospital (NUH) as her chemotherapy had not gone so well that week. She was running a fever and vomited the entire night, falling in and out of consciousness. I tried my hardest to comfort her and at one point during the night, she became delirious from fever, so much so that when I was replacing the cold compress on her forehead, she smacked my hand away and told me to get out. Despite this, I did not leave her side.
My aunt did not have an easy life. She was a single mother of 2 children, one of whom has cerebral palsy. She supported my grandparents. She loved celebrating our birthdays and took me on trips when she travelled. As I was her eldest niece, she confided in me a lot towards the end. When I mentioned that I could care for her when I am older, she joked that I should follow in her footsteps and become a nurse since I took such good care of her. Without hesitation, I acquiesced in her request as I just wanted her to smile.
After her passing, not long before I took the GCE O-Level, it was time to choose my tertiary education pathway. The courses I was qualified for were not limited but my aunt's face came to mind as I recalled the day I made the promise to follow in her footsteps. I was reminded of her courage to hold on till the very end, to pursue the things she loved doing. I loved the tenacity at which she lived her life — standing on her own two feet, raising her children singlehandedly yet having the resilience to plan the future, despite her illness.
"I figured, if I wanted to be half the woman my aunt was, then I should walk in her shoes."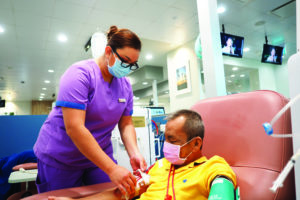 Thus, my nursing journey began at Nanyang Polytechnic (NYP) and then at Singapore General Hospital (SGH) and a geriatric retirement facility in Auckland, New Zealand. There was not a day I regretted my decision. I met people from different walks of life. I was able to see the world in an extraordinary light and from different perspectives. These experiences changed me as a person.
Little by little, I have come to acknowledge that nursing is more than a job to me. It has become my way of life. It is not just about healing the disease, it is about living with it, accepting it and not facing things alone.
I want to keep our patients safe and provide a safe environment for those under our charge. During the time my patients spend with me, I want them to feel like they have a place to go to if things get bad. If they need a place to belong, to have someone on their side, I want them to know that they have that with me.
At the end of the day, it's not about us, nurses; it's about our patients.
Read the rest of our nurses' stories here